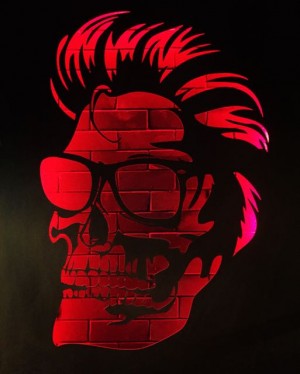 Pablo Honey, St Kilda's coolest spot where tequila is king and there is a $2,500 bottle where your $250 shot will get your name on the board and add you to a very exclusive list of tequila legends! The guys invited us down to try out some of their great cocktails and sample the crazy good menu they have going on.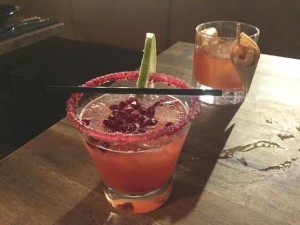 So you have to try the cocktails, there were some boys in on a company credit card that were trying ALL the cocktails but we took it easy, it was a school night after all!! I went with a Pomegranate Margarita to start with.  Pomegranate infused tequila, lemon, lime and orange bitters shaken and poured over ice. "A super drink created from a super food!" It was refreshing and utterly divine!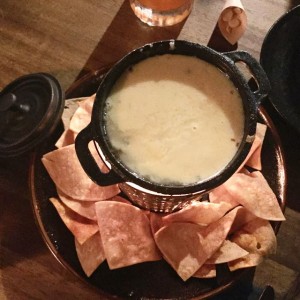 OMCHEESE!! Chorizo & Cheese Fundedo with hickory corn chips, a bubbling cauldron of cheese, gooey loveliness with chunks of chorizo lurking in the bottom, take a perfectly crisp corn chip and scoop away. It was the BEST!!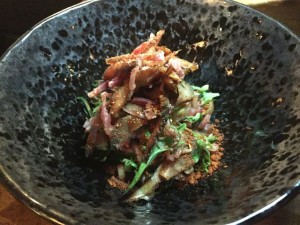 The menu has lots of the usual suspects with empanadas, wingettes, patron peppers, ribs and a great sounding Ancho duck but we went with some of the slightly different dishes like the Escabeche of Foraged Mushrooms with cress, jamon and piñon (spice). The guys forage the mushrooms themselves and then turn them into this delicate little dish with just a little spice and a wonderful balance.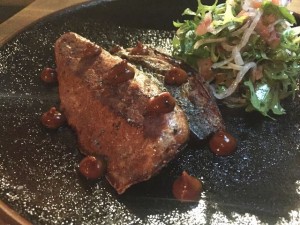 The Grilled Spiced Mackerel with jicama, coriander and smoked chilli were gorgeous little fishy fillets, the mackerel flavour coming through but complimented with the spicy, smokey little dots to elevate this even further and then the jicama, Mexican turnip, gives a cooling effect.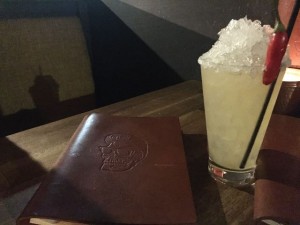 Cocktail number 2 – the Spicy Margarita with Jalapeño infused tequila mixed with Cointreau, lemon and orange bitters mixed up and served on the rocks. "Will be sure to get the heart racing!!" It was a great level of spice, I count it as all good along as your face doesn't go completely numb and you can't taste anymore!! This was a beautiful cocktail that worked well with the food.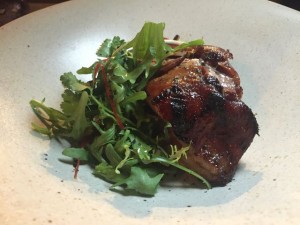 The BBQ Duck with a Chipa gauss (corn cake), herbs and charred malt onions – I love duck and this was a beautiful piece of meat, treated well, cooked to perfection with that glistening skin and then the little corn cake hidden underneath was totally addictive.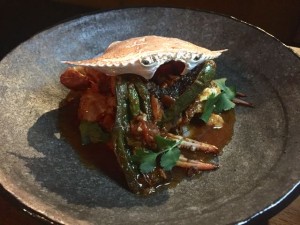 The Prawn and Crab Moqueca with coconut, tomato & coriander is like a curry but very deep and earthy and slathered over beautiful fresh prawns and crab including some claws to get yourself into and get messy.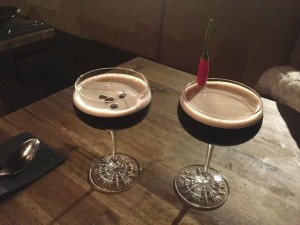 I am becoming a little bit of an Espresso Martini addict lately and Pablo Honey's was one of the best, especially with the desserts.  Hubby went with the spicy version the 'Speedy Gonzalez' "Its like an espresso martini….but better. Espresso martinis have been done to death. Try Pablo's version of the espresso martini. Its got a hint of chocolate with a chilli bite at the end. Trust me, you won't be disappointed!"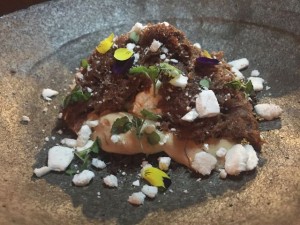 Oh dessert heaven!! The Chocolate Sponge with sweet soured cream, coffee and sweetened condensed milk was out of this world and worked so well with my cocktail, it was sooo good you wouldn't think it could get any better……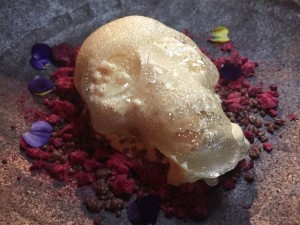 The Dulce de Leche Mousse with berries and bitter chocolate popping candy – it is clever to create a signature dish with some theatre and when you crack through that sugar skull and the mousse splurges out like brains it does impress everyone around!! It also tasted so fantastic and it was one of the best dishes I have had in a long time!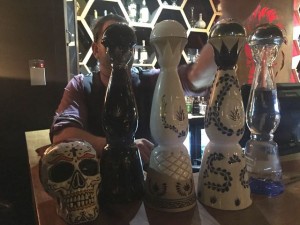 We finish up with some tequila, not the $2,500 bottle! But it was delicious and no salt or lemon needed to take away the horrible taste of your average cheap tequila, this was be sipped and enjoyed slowly. It really was a great night and we were sad to go but any more tequila and work the next day would be a bit tough!! We can't wait to head back for more food, cocktails and fun!!