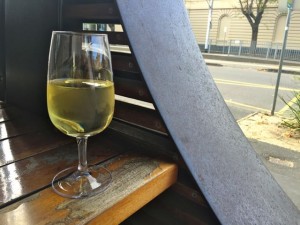 Not many relationships last 10 years, never mind when it's with a restaurant but Pelican has been a family favourite since we first had brunch there more than 10 years ago but sadly it's starting to age and this was the first time it didn't feel a magical as it always had. If anything it just seemed a bit tired, the menus haven't really changed in that time and the content doesn't need to – I still order the same things every time but the actual menus, like the furniture, need a bit of an update! Afterall we all need a bit of a spruce up every few years!!
So the menu was still filled with familiar friends, Chicken liver pate, meatballs, oysters, patatas bravas, calamari and some good and reasonable wines to go with. The staff have always been legendary at Pelican and even though the faces changed a few times over the years there was the same finesse and customer lead approach that made the meal just that little bit better.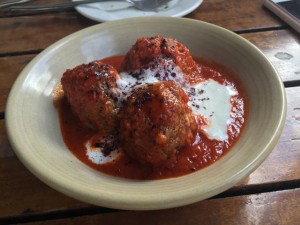 So I have saved my carb credits so that I can have the chicken liver pate with onion confit and piles of warm Turkish bread…… that's a "No" on the chicken pate – they have run out…. Petulant child and large bottom lip to the ready! Oh well lets go the meatballs which are nice enough and we get some bread to swop up the lovely tomato sauce.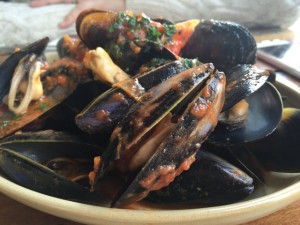 The mussels were nice though they had a little traveller in at least one of them that I never take as a good sign!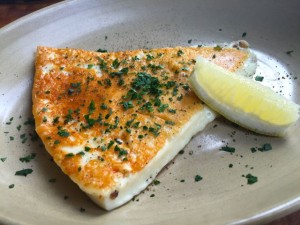 The saganaki was legendary, a big triangle of grilled cheese wonderfulness.
We cut it short after that and headed up the road to check out what else was on offer, it made me a bit sad. I would always recommend Pelican to anyone looking for a great spot to kick back and relax, you could lose a whole afternoon there grazing on tapas and Gruner, but maybe not so much these days.