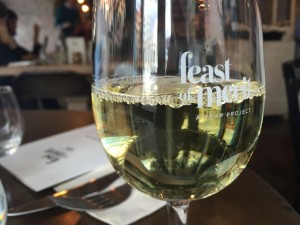 Feast of Merit is a great space on Swan Street and friends have recommended it for sometime so it was a perfect spot for ladies who lunch! But it's not just the perfect meet up space it is also giving back with with 100 percent of it's profits directly supporting YGAP's movement of impact entrepreneurs who are improving the lives of people living in poverty.
The breakfast menu sounds fantastic with Middle Eastern crumpets with vanilla and cinnamon labneh, pear puree and pistachio praline or Charred halloumi with fava bean puree, cucumber pickle, harissa oil and poached egg. Shakshouka with tomato, chilli peppers, pulses and legumes, Green Eggs, tahini labneh and za'atar or Winter harvest with avocado, baharat pumpkin, mixed grains, smoked corn, new season mushrooms.
But we are all about lunch and it's a simple proposition of proteins and salads. Proteins are your choice of Hopkins River beef, Milawa yellow spiced chicken with cumin yogurt or Crisp market fish with chraimeh oil. Salads are your choice of coloured carrots with harissa and beluga lentils. Winter slaw withbeetroot, cabbage, kohlrabi, celeriac, fresh pomegranate, garden herbs and red wine citrus vinaigrette. There's also the crisp broccoli with baby peas and tendrils, preserved lemon, fine burghal, organic yogurt and toasted hazelnuts. Enjoy the roasted eggplant, dried sumac, caramelised and crisp onion, salted cheese, chraimeh and fine herbs or the Japla pumpkin salad.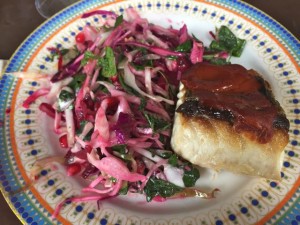 I loved the trevally fish with it's crispy skin though I didn't love the chraimeh sauce. The fish was perfectly cooked and the winter slaw was fantastic.
The service was great and I can't wait to go back and try some more of the dishes especially from the dinner menu too.