Best plan ever – head over to St Kilda on a perfect sunny public holiday and get yourself a table in the sun on The Prince Bandroom's new eating spot – POW Kitchen. They have taken the old music haunt, given it a bit of a lift and scored themselves a great place for punters to grab some food and drinks whilst exploring St Kilda.
The menu is spice packed with Thai Ma Hor, Crisp spiced school prawns, pork and prawn dumplings, chicken and water chestnut dumplings, sichuan salted tofu or squid, pork hock, wok fried chicken and yellow curry of chicken….. to name a few. Drinks are reasonable and there was a bottle of pinot grigio that went down way to easy!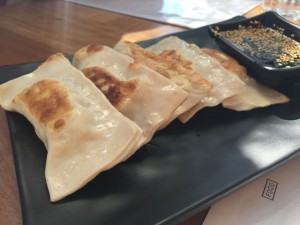 We had to get two serves of the chicken and water chestnut dumplings, gorgeous little pot sticker pockets full of flavour and loved that sauce.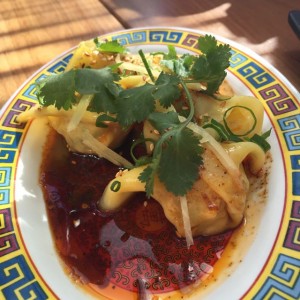 The pork and prawn dumplings with chilli vinegar and ginger,with ponzu and sesame were also a favourite with a really good hit of chilli on these.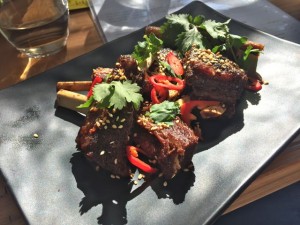 The Xinjiang style cumin rubbed lamb ribs with chilli, hoisin and sesame were spectacular, meat desperate to fall of that little bone and so much flavour coated on that little piece of succulent lamb.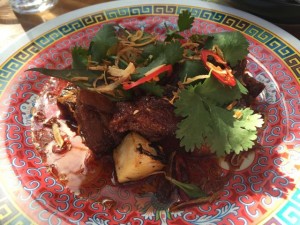 Crispy pork hock with charred pineapple, chilli and Vietnamese mint was a winner, gorgeous gnarly pork and sweet pineapple – genius dish.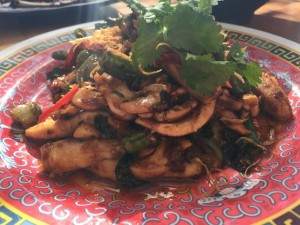 The wok fried chicken with chilli jam, eggplant and coriander was a definitely favourite with everyone, grab a bit of rice and tuck on in!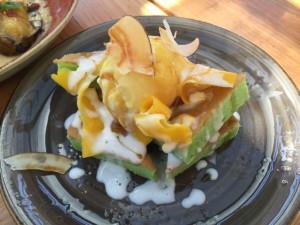 Desserts were just too good to pass up so we ordered them all!! The pandan chiffon cake with coconut cream and jackfruit was so lovely, soft little fragrant sponge with that amazing cream.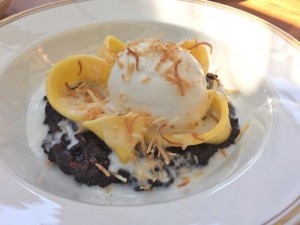 Black sticky rice with sweet mango and coconut sorbet – I LOVE black sticky rice and this was perfect with the super sweet mango and that super light sorbet.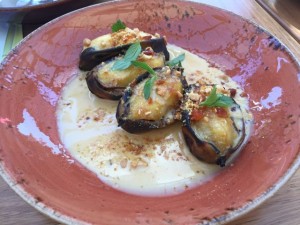 Coal grilled monkey bananas with duck egg custard and peanut praline – the most challenging dish on the menu, can't say I have had monkey bananas or duck egg custard but I am definitely up for that one again, think those bananas you used to do on the bbq that are all gooey and not quite runny, not quite firm but so very, very delicious!!
The guys have done a great job here, they have even made the dingy old toilets look good!! Good on you POW and see you soon for some more fun!!