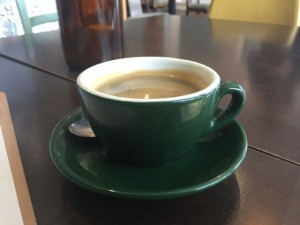 The perfect breakie spot, The Left Handed Chef is baking up a storm in South Melbourne and bringing fantastic breakfasts and waffle donuts to those clever people who drop by to visit. Coffee is perfect, learning to love a black coffee! The menu is just too good, it is so hard to choose, do you have the classics like eggs benedict, florentine or atlantic? Or do you go for something left of centre with Shakshuka Israeli eggs, avocado toast, breakie parma, the green breakfast or the deconstructed English Breakfast with gnocchi eggs…. how do you choose?!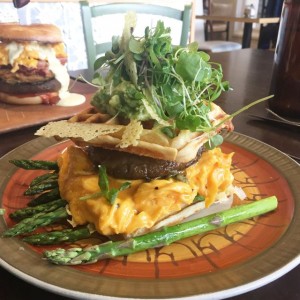 The Veggie Sister Waffle – WOW!!! Lightly parmesan-ed waffles with rich nutty pesto mushrooms, asparagus (nearly a whole bunch!) the most beautiful eggs. Very generous and very delicious, this was one of the best breakfasts I have had in a long time. I couldn't finish it all but I really wanted to! The waffles were perfect, the mushrooms and pesto so tasty and those eggs – How does he make them so incredible?!
But then we see what hubby orders….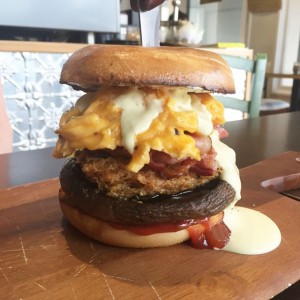 As they would say on Jaws… we're gonna need a bigger boat!
The Breakfast Bagel Burger! A towering beast with relish, mushroom, hash brown, bacon, eggs and hollandaise… we may need to deconstruct to get into this one… oh and there are a side of beans too!
It is again incredibly generous and very, very delish! The hollandaise is ridiculously good, big fat mushroom, those amazing eggs, great bacon and the beans were the best! How do you top that?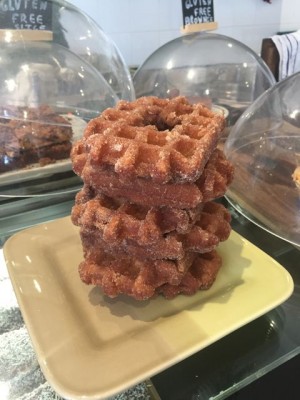 The Waffle Donut – OMG! It was so good, so very, very naughty. Crispy, light, sweet, crunchy…………. even if you have just eaten a mammoth breakie you still need to get into one of these!! Or take one home for later!
We loved our breakie at Left Handed Chef, can't wait to go back for some more of those eggs … and another waffle donut!!