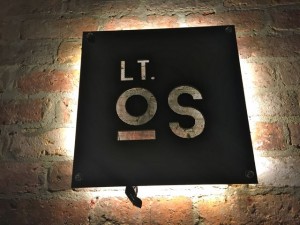 Mini burgers, ribs and fries? Who wouldn't want to be there! Little Oscar has taken up residence in the ever developing top end of Lygon Street and in great company with B'East and 400 Gradi, they are bringing a touch of Korean meets American Classic straight out of West 32nd Street New York. The fit out looks incredibly thoughtful, everything is super cool and not something I've seen in other spots, the owner has obviously spent a lot of time making this a great little oasis with just the right lights, stools and even the plant pots are something I want to get for my home! Music is YMR (YourMusicRadar) approved, good tunes to chill out too with your burger and your beer!
The menu is a simple check list of all the good stuff…..
Burgers – served in a mini twin, perfect for sharing and perfectly delish! You can go classic with the Little Oscar or Lower East Side with a smash of chorizo and jalapeno or Gangnam style with crispy fried chicken. For the less meaty peeps there is Kabocha – pumpkin and chickpea patty and the Korean tofu.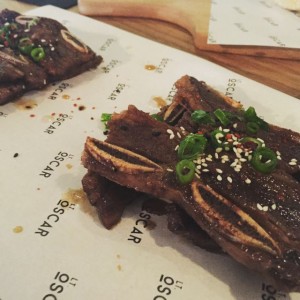 Ribs – Little Oscars Chicken ribs come in regular, sweet Thai or North Carolina and the Korean ribs are to die for – super thin cuts from the rack slathered in a bulgogi marinade and grilled for just a second so they are a little gnarly but a lot nice!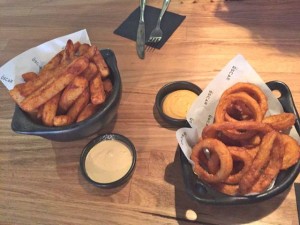 Sides – a mouth watering list of beer battered fries, onion rings, and the Kim Jong-Un's chips with caramelised kim chi, gochujang beef covered in cheong-gochu sour cream….. holy hell that sounds loaded!!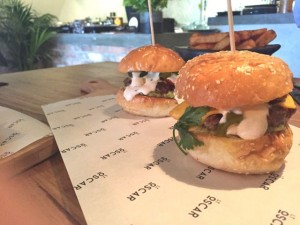 So our feast begins – Lower East side sliders for two with wagyu beef patty, spicy chorizo, jalapeno, cheese, avocado smash, coriander and chipotle sour cream – it's a waterfall of fantastic flavours with a good hit of spice… sooo good!!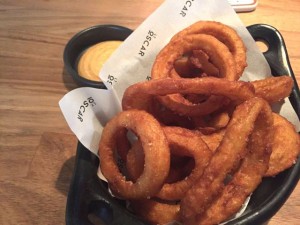 The battered onion rings with Little Oscars chilli sauce are the BOMB! Perfectly little crispy rings and that sauce is sensational. Quote hubby "Best onion rings ever!".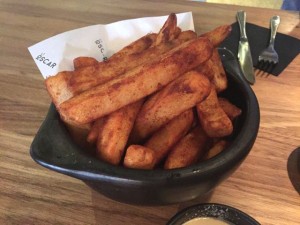 Beer battered fries with Little Oscars sauce – these guys know how to sauce and how to make the perfect fries – big blocks of crispy outers and fluffy insides. All this from one guy in the kitchen! It's damn impressive!
Little Oscar is a great bar to catch up with friends, enjoy some drinks, service with a smile and I could eat those burgers and ribs every night! Thanks for having us, we'll see you again soon!