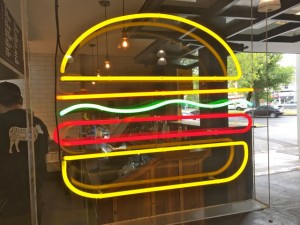 Clever, clever people! Got a bit of space out the back of your big pub and drive through bottle shop? Why not put in a drive through burger joint?! That's what The Grosvenor have done and created the joy that is STK Burger. Whether you are grabbing a slab or just in need of a damn good burger this is a great option. Just a short drive for us and after suffering all the mouth-watering pictures on insta I can't wait to get into it!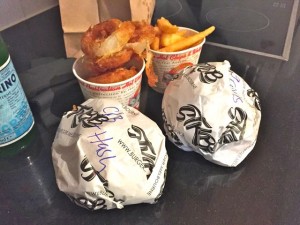 The menu is simply delicious with burgers a plenty plus those extra lovely sides like rings and beer battered fries. The burger options are traditional with cheeseburger, loaded burger, spicy burger and some veggie options plus a few unlikely suspects with ranch dressing and hash browns. They also package up your burger with drinks and fries so a burger, beer and fries will cost you $19.50 – bargain!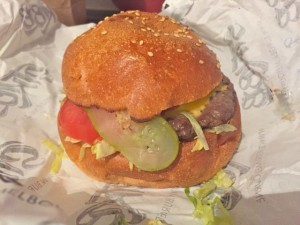 The hero burger and namesake is the big, hunky Grosvenor Burger with burger, streaky bacon, shed sauce, cheese, lettuce, tomato and pickles – it's for the big boys (who can't take a double down!) it was full of all the good stuff and hubby was very happy!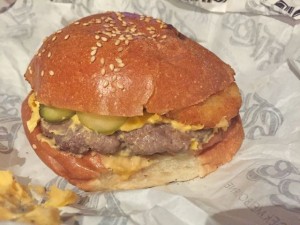 The Cheeseburger – classic and comes with burger, double cheese, pickles, house ketchup and for just $1 you can add a hash brown… to be honest I was just being greedy and I totally didn't need it and it kind of got lost in the mighty burger anyway so I would go on the side next time, or not at all! So the big burger breakdown – bun was great, fresh, held well till the last bite and was a perfect ratio of bread to meat. Burger was big! Good quality meat, cooked well and tasted great. Good saucing though felt something was missing and maybe too much pickle for me but it was a damn good burger and I would definitely put it in the top 5!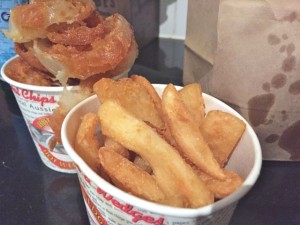 Sides are always good, as well as these very yummy beer battered fried and super crunchy onion rings you can also get a nice sounding iceburg, ricotta and dill salad and real gravy…. How did I miss the gravy?! And there are apple pies and ice cream sandwiches if you are completely pigging out!
It's fast, friendly and bloody fabulous!