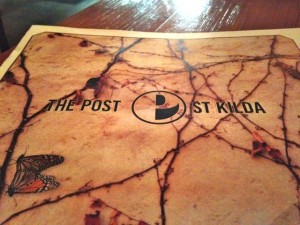 It doesn't look much from the outside but when you open the door and step into the bar you are immediately transferred to a warm, welcoming space, with a big front bar, exposed brick, plenty of seating and a friendly smile, you'll be glad you popped in. Around to the side of the bar is the restaurant and the nice outdoor area. We grab and seat and you immediately feel very comfortable, it's an easy going vibe, a damn good wine list by the glass and an enticing menu to break any diet!!
The staff are really friendly and quick to make sure you have menus and drinks going so you can relax and enjoy your evening. From our seats you can see into the kitchen and there are a fair few dudes in there but they are all working to their own beat and they seem to move around each other with a well-oiled elegance and swiftly deliver delicious food out to the lucky patrons.
The menu is a good mix of classics with some Asian highlights and some more adventurous dishes including Scallops with corn puree, chicken wings, crispy prawn bao, crispy tofu salad with Thai basil, risotto, eye fillet and curried lamb shank.
So still trying to be a good healthy lady full of moderation and balance I clock house made doughnuts and park them in the back of my mind whilst we negotiate starters.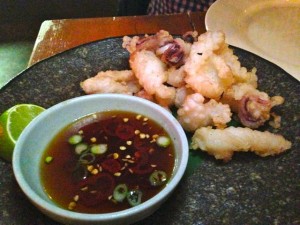 Salt and Pepper calamari, lightly battered with sweet soy dressing was really nice, very light batter and good calamari (I am still haunted by those moments when you bite into a calamari ring and get whiplash trying to pull away!!).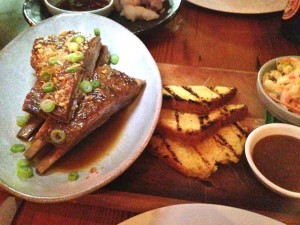 Twice cooked pork ribs were super succulent, falling off the bone and great with the corn bread, coleslaw and chilli sauce. So many good flavours going on with the rich, deep ribs, creamy coleslaw, wholesome corn bread and that smash of heat from the chilli sauce.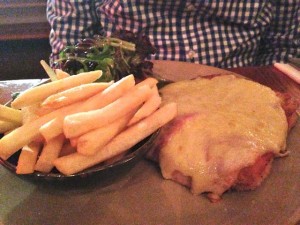 The chicken parmigiana with double smoked ham, Napoli sauce, cheese, chips and salad. It's a pub classic and this was a good size, no mutant sized parma the size of your head. I didn't love the smoked ham on it and I prefer to get my cheese bubbling and burnished but that's a pure personal taste matter and it didn't stop hubby devouring it.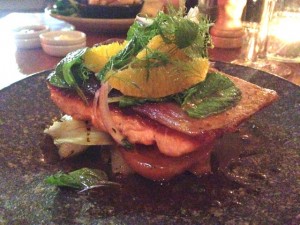 The pan seared ocean trout with charred fennel, thyme and lemon jus was sensational, a wonderful healthy dish with a generous piece of trout, super crispy skin and bed of wonderful fennel and citrus segments. With a few of hubbies stolen chips it was a great dish.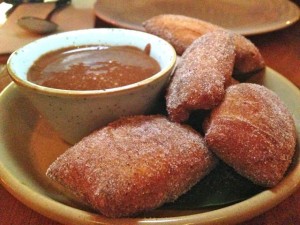 So you can't leave without sharing house made doughnuts with spiced sugar and chocolate dipping sauce. I have a bad habit at the moment of ordering what I want to eat and then having a nibble and getting hubby to eat the rest…. but even hubby couldn't eat all of the doughnuts!! They were gorgeous though, loved the little doughnut pillows and the spiced sugar was totally up my alley.
The Post is somewhere I would like to spend more time, any other time we would have grabbed a spot in the bar and watched with footy with another glass of wine but I hit the wall and we went home with happy full tums and a promise to visit again soon.
Thanks to the guys at The Post for a lovely invite and a great dinner.