Sometimes, when we are very lucky foodies, we get a special invitation to join a table of similar foodie friends to enjoy a special night with a specially selected Chef's menu. When we were invited down to Araliya we were excited to hear there was a Sri Lankan restaurant just nearby in St Kilda. The lovely owners and founders of Araliya, Sam and Dee Wedande, originally feeding Hawthorn for many years officially opened Araliya in June 2014, with Sam in the kitchen as executive chef and Dee managing front of house.
The Araliya philosophy is to serve contemporary dishes drawing from high quality local ingredients and infused with the spices for which Sri Lanka is well known: coriander, cumin, fennel, cardamom, cinnamon and cloves. Sam creates his own recipes, refining the cuisine he was born into with the best of ingredients and every dish that comes out of his kitchen is of the best possible quality.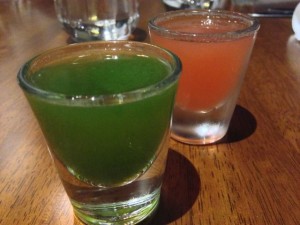 It is a seriously cold, wintery night when we rock up to all the smiling faces at Araliya, there is a real warm, family feel to the place and the smells from the kitchen get us all excited straight away. Our resident mixologist Dam is already with tastings of his favourite cocktails for the night. The Strawberry Sorbet with Strawberry liquer, vodka and a decent smash of fresh chilli and the Basil Martini with lime, lemon and fresh basil sorbet. The sorbet idea means you get a far more measured hit of flavour and there are a fantastic start to a wonderful night.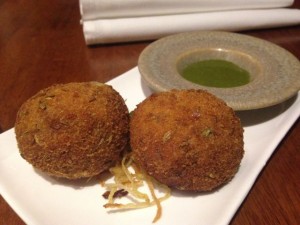 The Lamb Frikkadels with Mint sauce, made with lamb mince, fresh bread crumbs and served with a homemade mint sauce were so tasty. The sort of dish you want to order a pile of them and enjoy with a cold beer.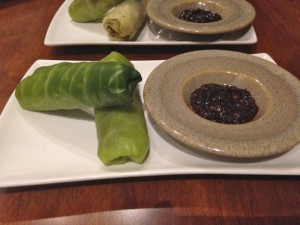 The Steamed cabbage rolls with banana blossom and chilli jam were unbelievably tasty and even more unbelievably vegetarian! The Banana blossom was so full of flavour and texture I think my new friend at the table thought I was trying to trick him when I said there was no meat.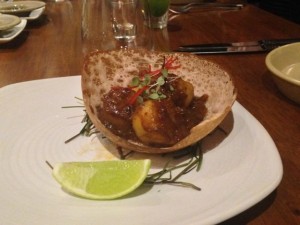 Scallops in a hopper, was probably one of my favourite dishes, probably just because of the name!! A carefully sculpted rice flour pancake, holding previous cargo of delicately cooked scallops with lime leaves and light spices – just beautiful.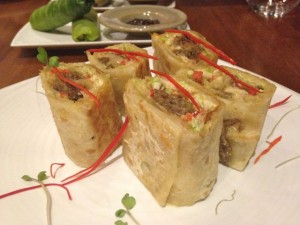 The roti roll packed with brisket, all succulent and falling apart from a slow braise in Sam's kitchen would be one of my favourites and if anyone had offered to pack me up a batch for lunch the next day I would have jumped at the chance – it was divine.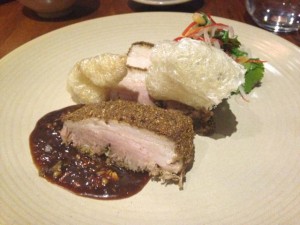 The confit pork belly rolled in an aromatic roasted spicy coat with tamarind, peanuts, rock melon and green papaya salad was fabulous, the salad was to die for with the sweet, sour, spicy and so fresh and then the perfected cooked pork belly….. oh yes!!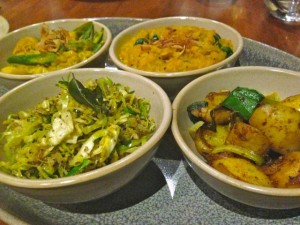 Vegetarian Nirvana was one of the best vegetarian options I have seen for a while, even the biggest meat eater might get food envy on this one! Four little bowls of vegetarian delights served with unhulled red rice, I have never had this before but I love it! This mini banquet all to yourself would make for the happiest veggie in town!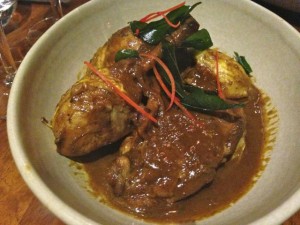 The Araliya Milawa Chicken curry with cardamom, cinnamon and cloves was a gorgeous dish, comforting and wholesome with succulent chicken bathed in a delicately spiced sauce – just perfect with fluffy white rice.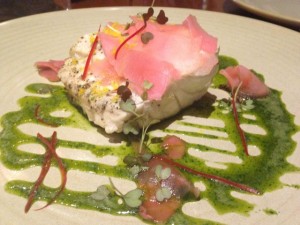 Another beautiful and healthy dish was the steamed fish with mirin, soy, young ginger, coriander and lime. A perfectly lovely execution of super fresh ingredients with nothing to hide.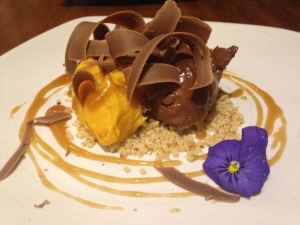 I'm not much of a dessert person but Araliya pretty much converted me with their milk chocolate mousse with sweet potato custard, salted caramel and hazelnut crumble. Firstly the most divine, luscious chocolate mousse and even more of a surprise the sweet potato custard that I was sceptical about but it was beautiful. Incredibly smooth, sweet and a great match with the chocolate – seriously if you love desserts you will want to try this one!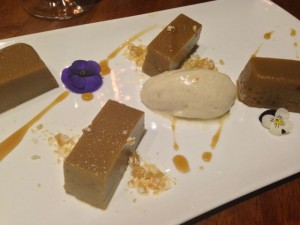 And finally the delicate steamed coconut custard with banana sorbet, wibbly, wobbly, beautiful custard with super soft sorbet.
What an amazing treat and seriously wonderful food, we can't recommend Araliya enough for a great place to relax, eat and enjoy. Bit it you can't make it there you can whip up a little something with Sam's recipe below.
Devilled prawns
500g prawns
1 tsp garlic, ginger (finely chopped)
1 onion (finely chopped)
4 lime leaves
2 dry chillies (seeds removed, sliced)
2 tomatoes (finely chopped)
Coconut oil (or vegetable oil)
Lime leaves (shredded)
Salt and pepper
Method
Clean the prawns and season. Heat oil in a pan and seal the prawns. Remove from pan.
Add onion, garlic, ginger, tomatoes, chillies and cook to a paste. Add a little water if necessary.  Season the paste, add sealed prawns and lime leaves.