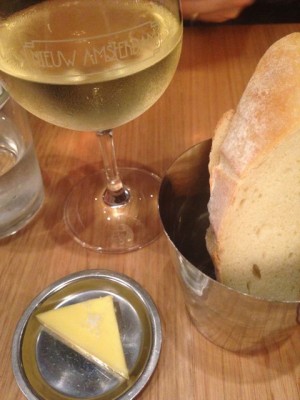 I've been a big advocate of Nieuw Amsterdam since we last visited way back when and I have been singing their praises and recommending everyone must go there for a relaxed dinner with some great flavours and mouth watering dishes. So the bar was high for date night and out we stumbled out into the cold to hit up the boys for some Dutch American delights.
We turned up a bit earlier than anticipated and the host was totally fine and got us a table and some water and the menus, we played a little game of 'find the wine by the glass' until we all realised ours was totally missing that page!! New drinks list in hand we picked a glass of the Riesling each. The menu didn't seem to resonate as well with me this time around, last time we had to negotiate what to have between us as we wanted to try everything, this time it was more of a there are two dishes we both like so lets get those and share.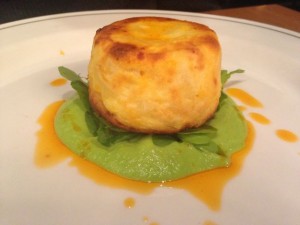 Mac n Cheese Souffle with avocado and chorizo oil smelled fantastic and looked lovely, more of a frittata than a soufflé but it was packed with flavour and was a little hard to share!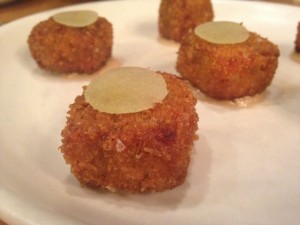 The Pork trotter and ham hock nuggets was a generous portion with six little nuggets, they tasted great but there was bit of greasiness to them… but they were fried piggy so that's kind of a given!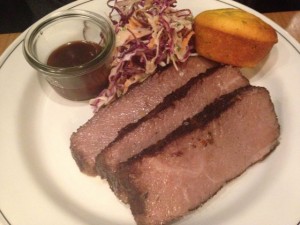 Hubby went with the brisket, revisit from last time we were here, bit different, always good to change things up but I don't think he enjoyed it as much as last time.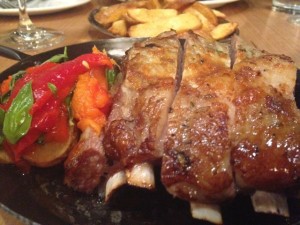 And then there were the lamb ribs….. my perfect dish for a high protein, low carb treat meal for the healthy regime. With a little side of roasted red peppers and potatoes to go with it should have been a lovely dish, unfortunately it wasn't. The red peppers and potatoes were stone cold and unpleasant and the ribs…. Oh the ribs, none of the fat was rendered so it was just layers of congealed fat hiding all the lovely lamb meat. The first bite was an unpleasant mouthful of nasty, wobbly, soft fat with barely any lamb meat. I then tried to separate fat from meat to try and get some of the good stuff but ultimately it became tedious and I gave up.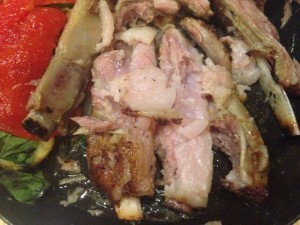 The guy next to me seemed to have a better batch, he was still complaining but at least his seemed edible. The manager handled it all really well, offered dessert and coffee etc. We weren't sticking around so they took the ribs off the bill….. but then never brought the bill until we gave in and went up and paid. So, a disappointing meal, sadly, I don't think I could recommend Nieuw Amsterdam as avidly as I have been.
As always – everyone has an off day and I am sure the ribs tomorrow were rendered to the crispy, loveliness that you would want with piles of lamb meat falling off the bone, but not for me today 🙁
——————————
Food 4/10
Service 6/10
Music 4/10 Jazz meets elevator
Toilets n/a
——————————
***********************************************************************************************
Last Published 1st Feb 2014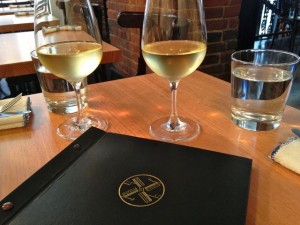 Top of town is new kid on the block Nieuw Amsterdam has taken over the old Irish bar and made a little New York haven on Hardware Lane. The building with exposed brick and two levels is now a smart, comfortable and enjoyable space. Plenty of light and a super cool downstairs bar with booths for dj and happy customers.
The menu is New York styled with a twist, you can get your Reuben with bbq beef brisket, sauerkraut, pickles, cheese and thousand island dressing. Jerk Chicken, Grits Fritters and Clam Chowder – Oh Yes!!
It's a quiet Saturday afternoon and we have a brilliant time! Our new friend and fellow The Cure fan, David (I think, I am like a goldfish with names!!) looked after us so well and was happy to chat about how the restaurant had come about – I never realised the Dutch settled in New York first hence Nieuw Amsterdam! The wine list is fabulous, barely a Marlborough Sauvignon Blanc in sight! We have a very easy Domane Wachau Riesling and negotiate through the menu – I want it ALL!!
So lunch is locked in and my rabbit meatballs with hand rolled tagliatelle, soffrito and roast tomato sauce. WOW – this was the most beautiful, enjoyable, fresh and delicious dish I have had in a long time. The meatballs are large, pink and moist with a generous portion bathed in rich, sweet tomato and basil sauce….. sensational!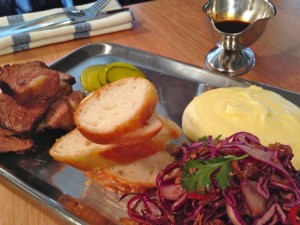 Hubby goes the simply described BBQ Meat Tray – Beef Brisket served with cabbage salad, mash and gravy, pickles, bread and sauce. A modest silver tray reminiscent of our Austin BBQ trips, holds a pile of the most amazing beef brisket – melt in the mouth, succulent and that touch of BBQ char. The mash was that luxurious serve with an untold amount of butter that you know is so very naughty but so very, very… very nice!!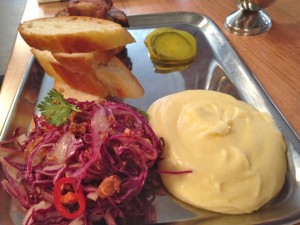 Cabbage Salad – could eat this every day! Fresh, crunchy, touch of chilli and crispy onions. One of those dishes you understand when people talk about balance and texture YUM!!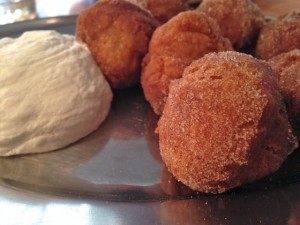 Moving onto the house red, a King Valley Shiraz, we cannot resist sharing the Pumpkin Donuts with Kentucky bourbon cream. Little nuggets of cinnamon sugared pumpkin donuts, moist and tasty with a boosey cream! What more could you want!!
The guys at Nieuw Amsterdam are ticking all the boxes for me – great decor, staff, wine, food and you can book a table! Thanks to all and see you soon!!