It's probably not a great sign when everywhere else in Melbourne CBD is rammed and we walk up to the windows of Ruyi and there is one lonely pair in the restaurant. It definitely doesn't look Chinese, no waving cats or gold decorations – it actually looks more Swedish and very modern.
The menu is extensive with a fabulous choice of dumplings, small dishes and bites all to be shared. The manager spends a bit too long telling us about the ethos behind the restaurant and the seasonality of the food etc and when done we are ready to order and enjoy.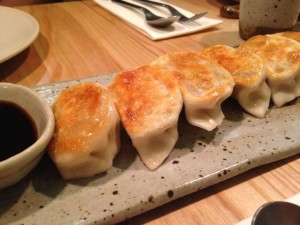 The pan fried pork and chive dumplings look beautiful, sadly the dough is still raw so not so good but the filling was lovely.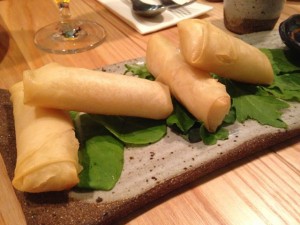 The seafood spring rolls, turn up on mass, there were supposed to be three per serve so two serves is perfect for the six of us. Never had calamari spring rolls before, they were nice enough.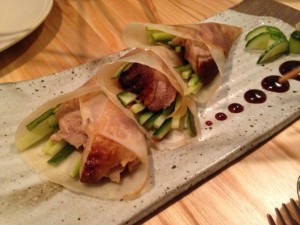 The Peking duck cone, is a lovely Peking duck pancake but my duck was overlooked and chewy, even worse my friend found a huge piece of bone in hers. Not so enjoyable.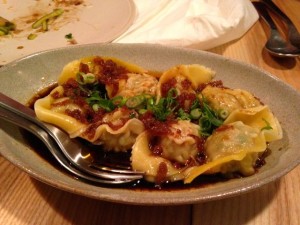 The homemade wonton in chilli sauce were gorgeous, some of the best I have had with a perfect chilli dressing. The BBQ honey spare ribs sounded lovely but we were sadly told there was only one serve left so we left those off the order, they turned up anyway and then went back to the kitchen and then came back again anyway….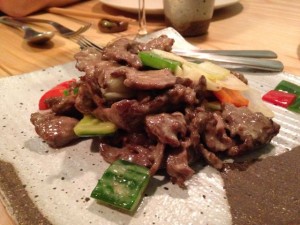 The honeyed potatoes were as described, not something I would order again. Wagyu beef with wasabi was ok and the citrus pork chewy.
The manager stopped coming to the table after the raw dumplings, the remaining staff just seemed nervous and almost scared by the time we had complained for the third time. They didn't charge us for the raw dumplings, bone duck pancakes and the ribs we didn't order, they also offered us a $20 voucher to come back again but it's unlikely as there are too many great restaurants in Melbourne to return to an average one. As always it could have just been a very bad night in the kitchen but this was our experience and it wasn't great.