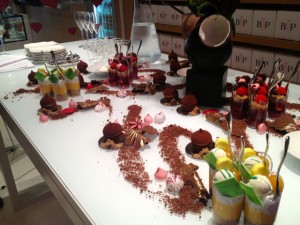 Would you like to pop along to Burch & Purchese to enjoy a sneak peek taste of their Taste of Melbourne dishes along with a glass of Laurent Perrier? Hell Yes!! One of the best, most sugar filled hours of my life!! Darren and Cath hosted a select few to a sweet night of fun – my pictures will not do anything we ate justice but imagine arriving to be greeted by an edible table of treats! Ok you couldn't eat the table but I am sure that could be organised if you wish. Instead there were single serves of some of their finest creations – which you can buy on a daily basis at the Sweet Studio.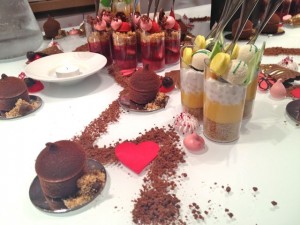 Firstly we are treated to a quick tour of the studio, fridges packed with freshly prepared cakes and desserts but there are no run of the mill cakes, there is a science and complexity to everything B&P do, whether it's exploding, dehydrated, liquid nitrogen fuelled or just simply divine I challenge anyone not to develop a sudden addiction to dessert here! B&P seem to be the innovators of the sweet stuff with anything possible and sometimes not what it seems. Edible terranium anyone!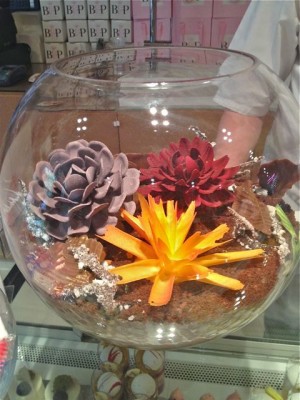 Honestly – you can eat it all, choccie soil, choccie flowers and apparently even a few choccie worms in there!! There are Lego cakes, shiny choc cakes, edible signs and a whole new range of ice cream in the fridge that I had to be dragged away from!! AND their own B&P Wagon Wheels! All the Brits will know this one and B&P have taken it to the next level… but that is for another day!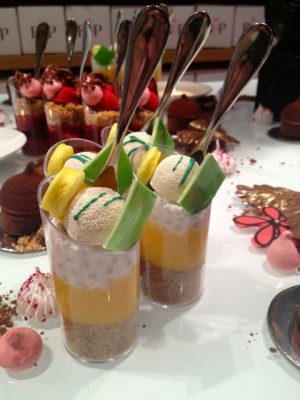 Tonight we are enjoying the desserts awaiting the lucky attendees of Taste of Melbourne, firstly – Coconut, Passionfruit, Ginger & Mint – commence the list of amazing contents….
Coconut mousse – so good!
Passionfruit curd – you can buy it by the jar!
Coconut caviar- Sensational – could eat by the bucket load
Passionfruit jelly – love
Salted oat & ginger crumble – could eat this for breakie… lunch and dinner
White chocolate mint wafer – yum
AND
Brilliant white chocolate spray – spray me anytime!!
Serious work here people and for only $9 a pop this is an absolute steal for the work involved!!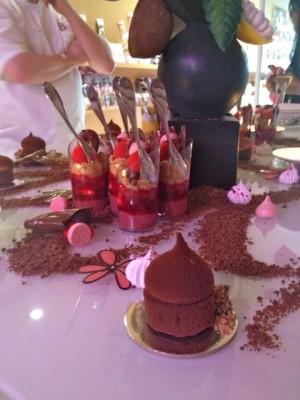 But wait, there is another little tube waiting for our lucky tastebuds! Explosive Raspberry Milk Chocolate ……..
Raspberry & milk choc mousse – to die for!
Raspberry custard – my two favourite things combined
Raspberry compote – smack you in the face flavour
Explosive milk choc chip cookie crumb – makes you giggle
Exaggerated rasp cream – raspberries galore
Raspberry marshmallow – so teeny and so potent!!
Milk chocolate mirror glaze – so clever and cool
It's simply heaven!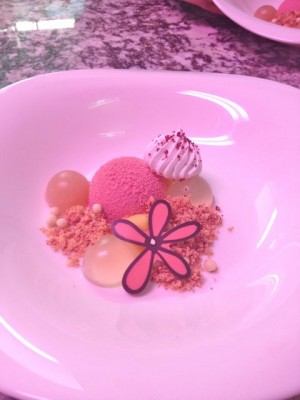 BUT wait – specially for the Taste Festival, the team at B&P have developed an iconic, limited edition dish with a raspberry liquid nitrogen meringue … but that's not all – of course! So we have raspberry couli, champagne jelly dots, no egg peach merigue, choccie flower, sensational crumb…….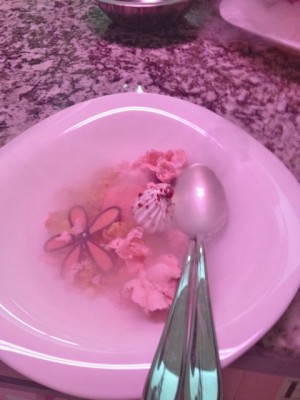 ….and then a freshly prepared liquid nitrogen 'cooked' raspberry and white chocolate crumble……………… honest, it's the truth, this is happening people!! However there will only be a limited number on the day so make sure you get your just desserts first!!
Thanks to Darren and the team for such an amazing evening and for the exclusive jar of gold studded salted caramel we went home with!
****************************************************************************
Previously published 14th August 2011
Ok, I didn't actually go to the Burch and Purchese Sweet Studio but even better, they came to me!!!
A friend drops by on a Saturday evening ladened with boxes packed with sweet treats and joy!
The box is opened and the colours, smells and labels shouting coconut, passionfruit, pear, rhubarb explode into our lives.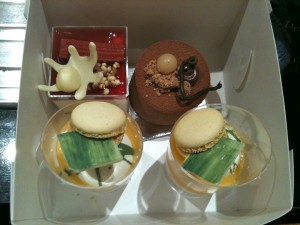 First up is the delicate, beautiful colour combo 'Coconut, Passionfruit, Ginger, Mint' filled with Coconut mousse, passionfruit curd, coconut caviar, passionfruit jelly, salted oat and ginger crumble, white chocolate mint wafer ginger mini macaroon and brilliant white chocolate spray……… OMG. It is sublime, the textures of the crumble and 'caviar' are just yum yum yum!
Next we have the 'Dark Chocolate, Pear, Hazelnut' it's a delicate little square of choccy bliss, tarakan 75% chocolate & vanilla mousse, caramelised pear cream, hazelnut cream, B7P nutella, chocolate hazelnut brownie, dark chocolate velvet spray and chocolate twig! You just don't want to stop!!
Last contender in the box is 'Rhubarb, Apple, Walnut Cheesecake' Its yummy time!! Malted oat and walnut biscuit, braised rhubarb, roast walnut jam, caramelised apple mosaic, rhubarb jelly, vanilla custard cheesecake and acidulated apple. Creamy, fresh, zingy, yum-tastic!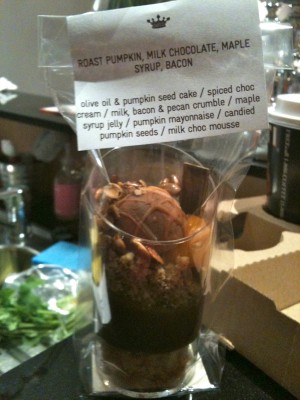 Finally the tastebud challenge of 'Roast pumpkin, Milk Chocolate, Maple Syrup and Bacon' it is not a traditional mix but it just works! Olive oil & pumokin seed cake, spiced choc cream, milk, bacon & pecan crumble, maple syrup jelly, pumpkin mayonnaise, candied pumpkin seeds and milk choc mousse…. its a crazy combo that takes a few seconds to settle and then you think yes, no, yes no!!?? But you keep going back in to try again!!
The attention to detail, the number of techniques and ingredients combined to make the best desserts ever is amazing!
To top it all off there is a jar of salted caramel – armed with a spoon off we go!!!