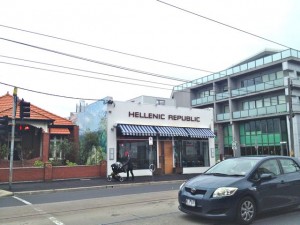 Big fan of Greek food and Hellenic Republic is a great little spot with a relaxed vibe and plenty of blue and white and wooden chairs hanging from the walls. The staff are excellent, friendly and helpful our guy was the perfect balance of helpful, guiding and helped me not to over order for the first time ever!!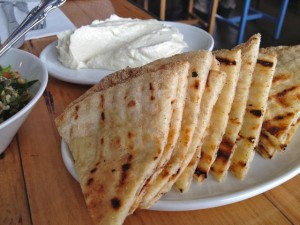 The BEST taramousalata ever, though not playfully pink as I remember from my childhood, it is soooooo delicious! I cannot get enough! Infact I could smash a plateful now!! With lots and lots of charred pitta…. oh for a delivery!!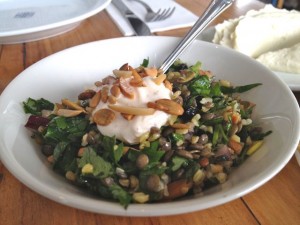 'Kipriaki Salata Dimitriakon Cypriot – salad of grains, pulses, nuts, yoghurt' Holy healthy salad! So very, very wonderful! The perfect balance of texture and taste! Perfection!!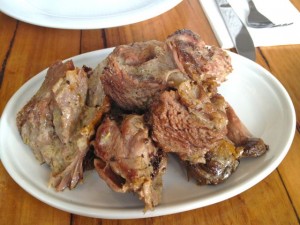 'Arni Sto Fourno' – Slow roasted shoulder of lamb, garlic and oregano – our waiter helpfully offered us a half portion so we could enjoy lashings of succulent lamb and still order lots of other lovely dishes!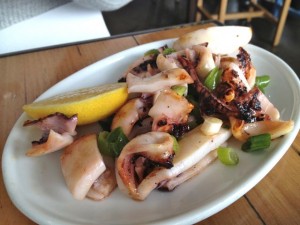 'Kalamari – Chargrilled calamari, spring onions' To quote hubby "The best calamari we have had in ages" and it was! Perfectly tender just with a splash of lemon and you are in heaven!!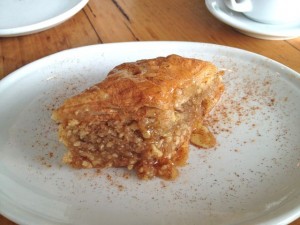 Always room for Baklava 'Yianniotiko Baklava from Yiannena' is so bloody good!! A massive rush of sugar syrup followed by much nuttiness and pastry…. you cannot believe how good this is!!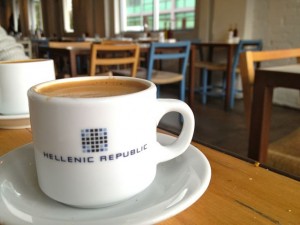 And a good old Greek coffee to finish! Just remember to leave the bottom layer!!