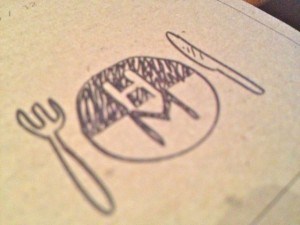 Half Moon has changed a few times over the years but has always kept it's name. It seemed to be empty for a very long time but this prime position in Brighton is now very much a hot favourite with the locals and rain or shine seems to be overflowing with happy punters.
From the front it looks like a reasonable size space with a bar and covered garden-esque area but when you pop inside you find the place just goes on and on with a good sized restaurant and functions areas!! I really love the private dining room too a little glam space for a select group to enjoy!
The Bar Menu 'Hands Best Friend' is a mouthwatering list of small bites like pork pies, calamari, skewers, scotch egg along with 'Pub Classics' – the burger, fish and chips and parma – similar staples to the offering in the dining area.
We arrive with our Dimmi booking online all sorted but no record of our booking in the system which is a bit worrying but the guys are lovely and fortunately a no – show means we get a table quickly set up for us and a soon sat on the comfy seats with water and wine and menus…. tick, tick, tick!!
The restaurant menu is big and packed full of great favourites with a bit of an update or twist. Along with the Pub Classics there are oysters, terrine, souffle, tagine and much more. But you are paying a premium for that extra twist with fish and chips at $25, Parma at $26 and the burger at $24. If you are looking for a $15 parma this might not be the place!
But I have no problem paying $28 for a Fish Pie if it is the best fish pie ever!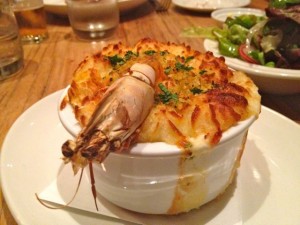 Looks pretty good hey? 'Fishermans pie, parsley sauce with cheesy potato topping & salad' It's a hefty little bowl with a great side salad and an impressive king prawn poking out the top! It has all the decadent deliciousness that you want from the comforting idea of the fish pie. Creamy, cheesey, chunky fish and just damn good!! My hero prawn didn't have his 'poop shoot' removed which meant I got a mouthful of it which was a shame but all in all a great dish!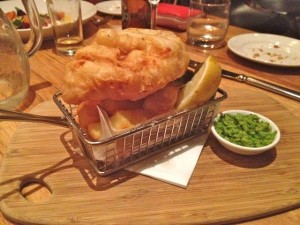 'Colonial pale ale battered fish n chips, mushy peas pickled wally & tartare sauce' is beautifully presented and I am loving the little wire basket and board. By all accounts it tasted 'bloody good' and there wasn't a pea left to be seen in the end!!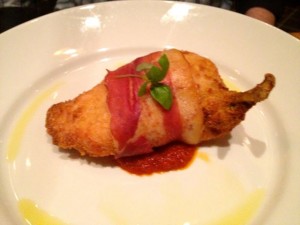 'Half Moon Milawa chicken parmagiana w/ serrano ham, summer slaw & fries' Apologies for the crummy picture, but I had to show the inside out presentation – cute!! It is a big serve of chicken and I think the recipient would probably of rather had a really good traditional parma but again plenty of yummy noises and cleared plate so it wasn't too much work!!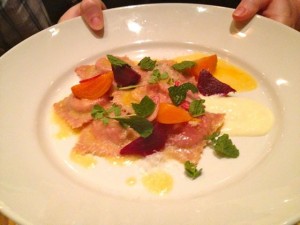 'Beetroot ravioli, ricotta & goats cheese w/ horseradish butter sauce' is a real veggie treat and a wonderful flavour combo!
So there we go, cleared plates all round and happy faces! Staff were lovely, atmos really good! Bit of food envy at the ladies that ordered the Tagine – 'Tagine for 2 of Milawa chicken w/ green olives, dates, preserved lemon, seasonal vegetables & chickpeas, side of couscous $58' looked absolutely amazing!!
It's happy Days all around at Half Moon!