I was recently contacted to ask if I wanted to trial the Harvest Box range, healthy treats delivered to your desk! Not something I had thought of signing up for before I thought it would be good to give it a go and see what they were like!
The idea is to choose from a wide variety of snacks to be delivered to your desk as often as you like! Choose from nuts, super seeds, dried fruits, crackers & treats and more you can beat your 3pm cravings with a perfect little box of joy on your desk!
Now I agree you could be super organised and go to the nut man at the market and buy your choice of similar fun and baggie it into little portions to savour when you get the hungers but ….. we all have good intentions!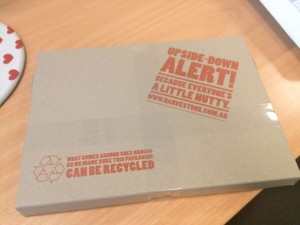 Cute packaging, keeping your snackage safe until you are ready and individually compartmentalised so that your Seville doesn't invade your Kokoda Trail!!
Now my first question was…. are they local – answer is;
Wherever possible we have hunted down the best tasting local produce we can find. Seasonal constraints may dictate that from time to time we need to use imported produce, but this will be the exception. All of our dried fruits, nuts and seeds are 100% natural and most are FREE from preservatives, sulphites additives and added sugar.
So you know that you are getting a healthy snack! There is a lot to choose from so you can have something different every day with crazy flavours like OMG Wasabi nuts and Cherry Bomb mix – they are fun and some are fruity!!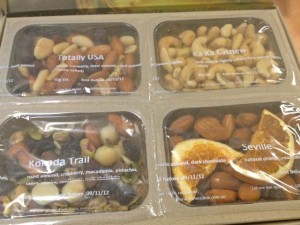 At $7.95 a pop it might seem expensive but I spend more than that on coffee each week and this would be a much healthier energy boost! Reading through all of the flavours – there are over 50 combos! I could easily become hooked and I couldn't be bothered to do this conjuring at home so I guess its up to you!!
Thanks for the trial guys and you never know I might be signing up with you very soon! And if you did want to trial their healthy snacking solutions you can get a trial box for just $1!