GAS – tastic!
A Coventry Street winner if you are walking past and see a spare seat grab it! Fate is telling you something!! The coffee is amazing – exhibit a;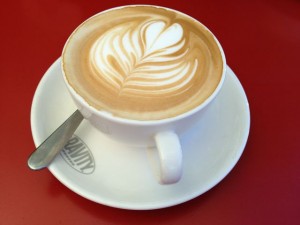 Just gorgeous!!
Breakie options are the exotic side of traditional with eggs and toast a plenty but with dukkah or feta or filo!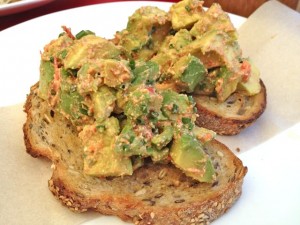 Smashed Avocado & Ktipiti – 'Greek style capsicum and fetta dip lightly tossed with smashed avocado. Served on toasted turkish or multigrain sourdough'. It's a massive serve but it is delicious! There must be two avocados lovingly scooped to put this together and the sourdough is divine!!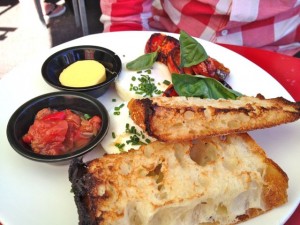 And the most perfectly poached eggs with Turkish bread and a side of tomatoes!
Service with a smile and food with real heart! YUM!
******************************************************
Previously Published 15th January 2012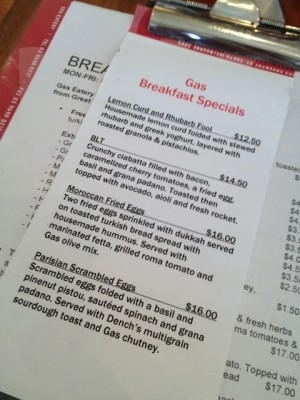 Grabbing a much sought after seat in GAS I am enthralled by the choices of tapas, pides, salads and a hearty breakfast menu full of great dishes with a Middle Eastern twist.
Coffee – tick tick tick, creamy, rich, dark and takes me to a happy place!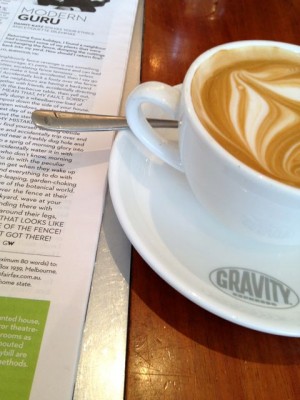 I want to try everything on the menu it all sounds good but the tortilla 'spanish omelette with goats cheese, chorizo, fresh herbs, side of bacon, harissa glazed roma tomatoes and Turkish toast' calls to me!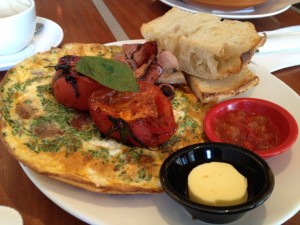 However it should have called with a bit of a warning!! Massive!! Must have a big appetite!! It is fantastic but I feel terrible that I can't eat it all!! The tortilla is gorgeous, still a little 'gooey' but with crispy edges it is perfection. The goats cheese is creamy and salty and melts into little pockets in the tortilla and with the tomato chutney it is full of wonderful flavours. The bacon and turkish bread with the tomatoes could make a whole other dish!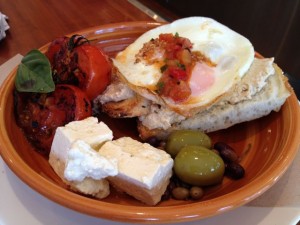 The Moroccan fried eggs – two fried eggs sprinkled with dukkah served with toasted Turkish bread spread with housemade hummous with feta, olives and grilled tomatoes is rich, fragrant, nutty, salty – amazing dish!! Eggs – perfectly cooked ofcourse!!
Generous with love, serving size and flavour – GAS deserves to be busy 24/7 it's a great place to grab brunch and a good coffee.