So much to love about Daughter in Law, the decor is Plush meets Bollywood meets…. Disco from the epic tunes that were playing! The team were lovely, service was great and the food….. pretty bloody amazing!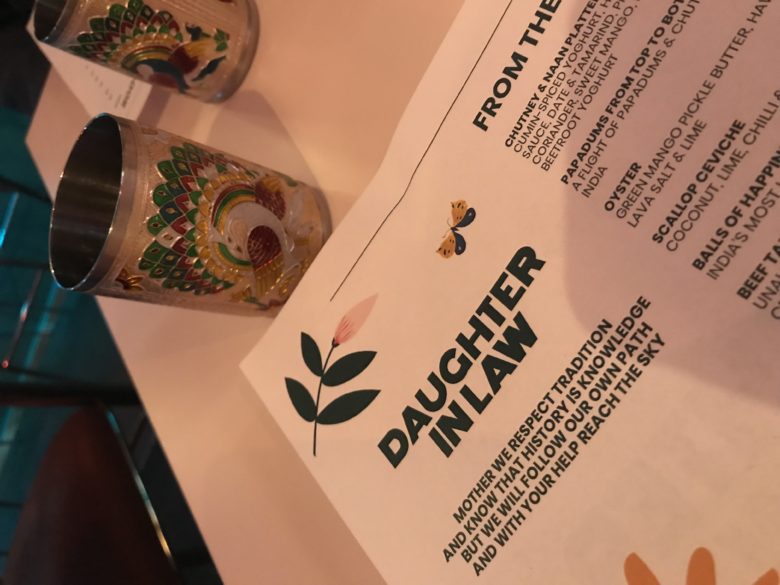 We ran in from the miserable rain 45 mins early – not a problem, smiles, table, menu, wine = Sorted. We were at the table near the bar which once it starts to fill up it gets a little bit squishy, next time I'll be aiming for one of the beautiful velvet high back booths that look like you could happily melt into them.
Menu is just too much! Too much good stuff! It's divided into five parts, but even my tough foodie negotiating skills had me struggling, we want everything!! We maybe should have tried the Chefs Selection that was reasonably priced at $55 and that would have relieved some of my frowning!!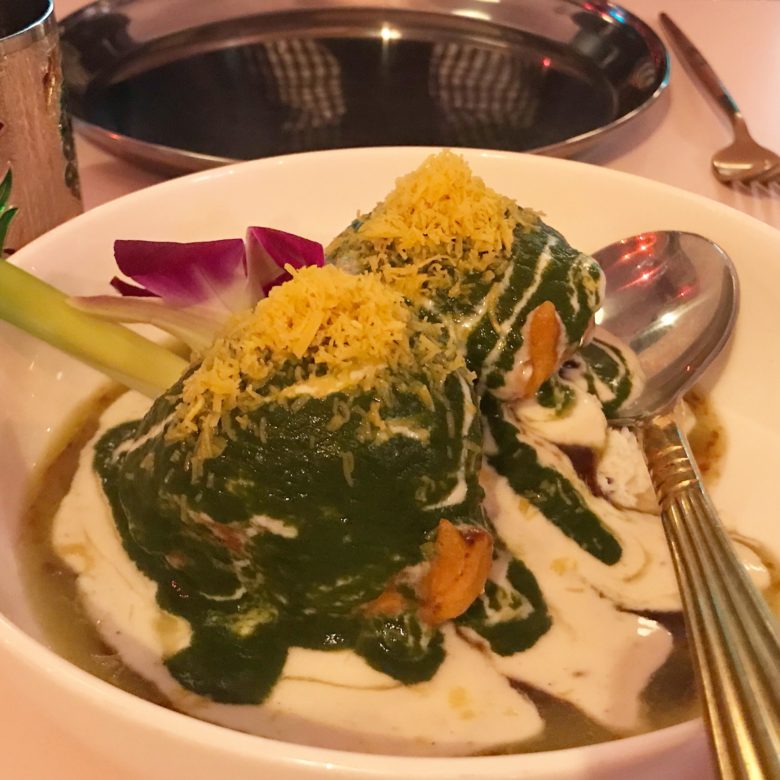 'From the Streets' offers a rainbow of dishes with chutneys, ceviche, Beef tartare, tandoori corn, flights of poppadoms and a couple of new dishes for us with Papadi Chaat described as Delhi Street foods version of nachos. We had the beautiful Batata Vada a big ball of potato flavored with curry leaves and mustard with a pineapple chutney Soooooooooo good!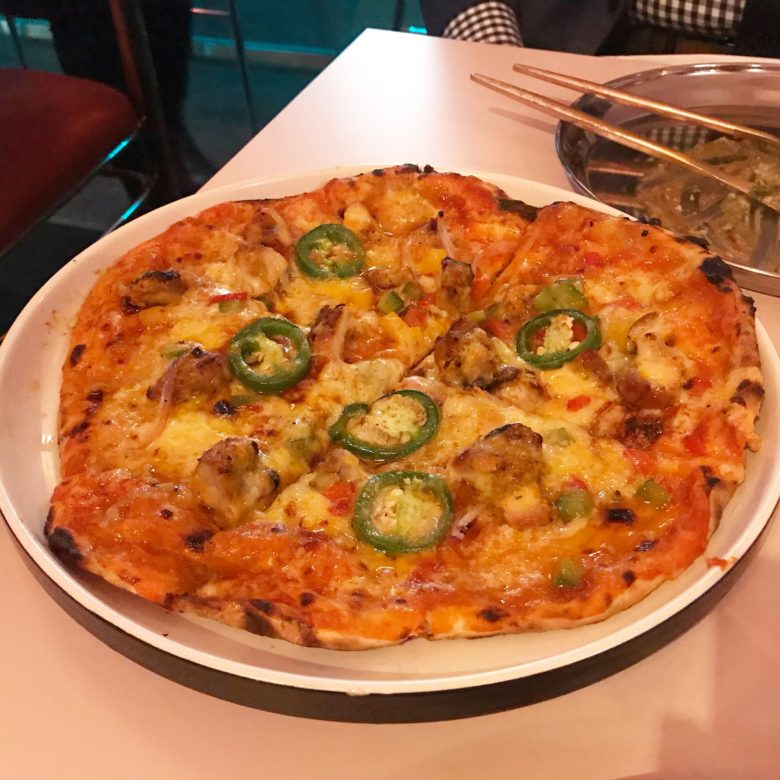 Hubby was overly excited about the naan bread pizzas! Our Tandoori Chicken was nice, the big green chilli slices weren't as scary as they looked and the crispy naan base was a winner.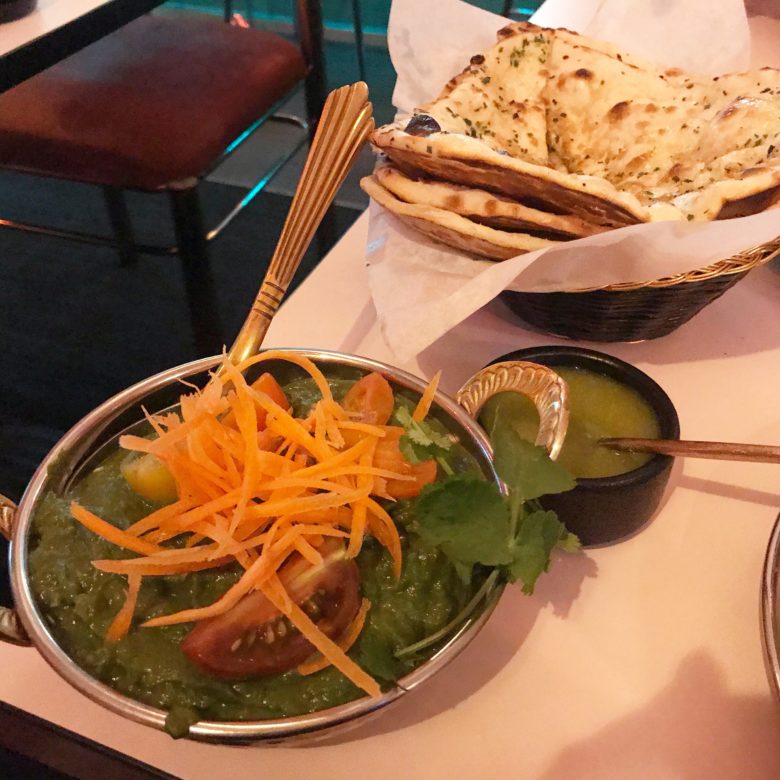 'From the Pots' is your heartland curries with all of the favorites and more, Butter Chicken, Lamb Rogan Josh, Pork neck Vindaloo, Palak Paneer and lovely dahl. So much amazingness to choose from. I do love a butter chicken and the vindaloo was tempting but we went the Palak Paneer as a firm family favourite and it was great. Super velvet green sauce with a nice lever of heat hugging chunks of rich creamy Paneer cheese. Some of the curries were getting near the $30 which is pricey in fact you could easily run up a bit of a bill.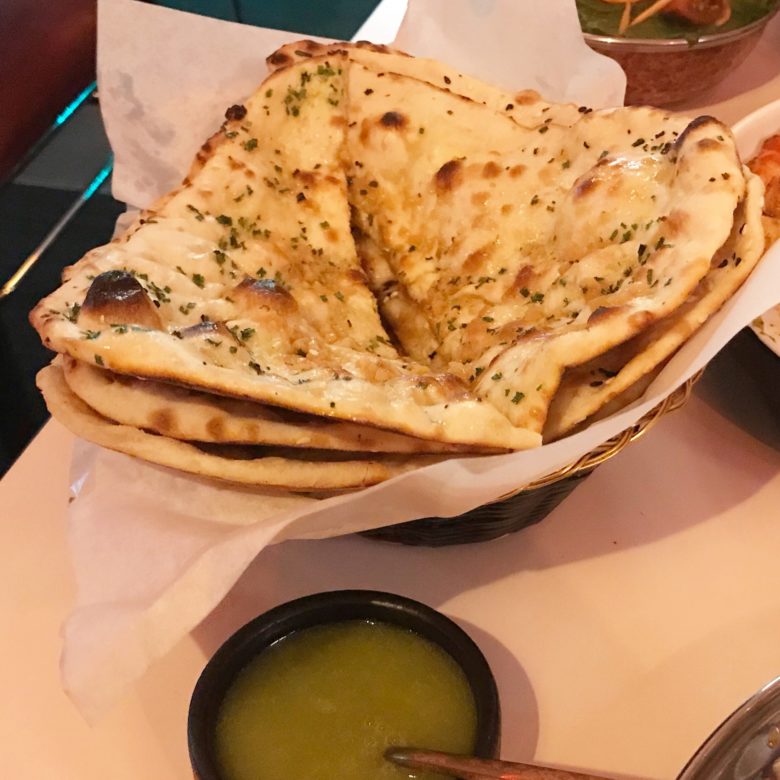 Because we hadn't had enough carbs we also got the naan basket with one plain, one garlic and chive and a sesame and onion seed. They were fab but even naan loving hubby was beat, as we finished up the very nice and reasonably priced Riesling I could feel it all swelling up!!
We'll definitely be back, less naans and a chance of dessert for sure!