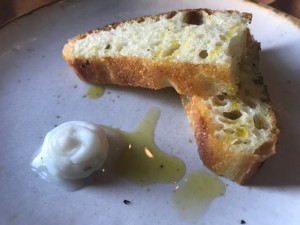 So good we had to visit twice so brace yourselves for a long blog of fabulous Italian food from a lovely little local. Bringing traditional Italian feasting and a damn good wine list too this is a place you can't help but eat yourself silly!! Dinner always starts with a friendly face and a serve of the most beautiful soft toasty bread and spread with a good dose of fabulous fat!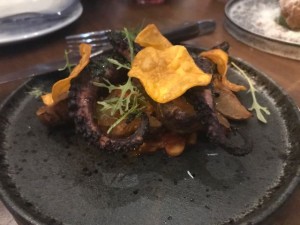 The menu varies based on the best ingredients in season and I like that, even in the few weeks between our visits dishes had changed up. The charred SA octopus with Romesco and Jerusalem artichoke and sweet potato crisps as super fresh and just delish.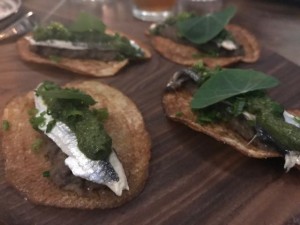 I am a sucker for white anchovies and this simple little dish as truly amusing!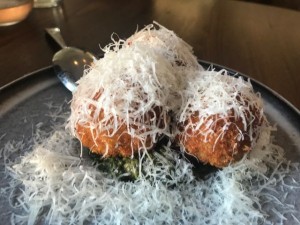 Fried pork polpette with super green pesto and parmegiano-reggiano generously shaved on top are fabulous big old juicy balls of love!!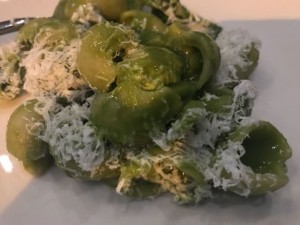 The conchiglie with stinging nettle, broad beans, peas and Pecorino Sardo was a beautiful green feast of perfect pasta with amazing great flavours from simple great ingredients.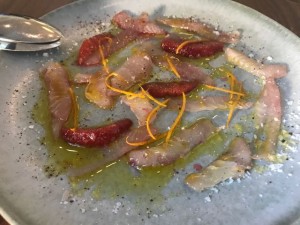 Snapper Carpaccio with blood orange and candied zest was a modest plate but perfect wafer thin pieces of fresh fish with a great tang from the orange.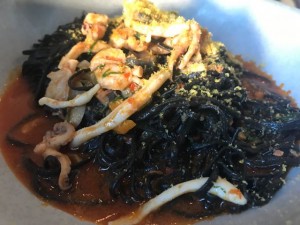 The tagliolini al nero with cuttlefish, pippies, 'nduja and bottarga – the first time we had this dish I was still thinking about it the next day! It is so good, I think it might be the first time I have had squid ink and it was again simple and beautiful. Great dish!
HEAVEN!! Agnolotti dal plin, veal and wild Gippsland rabbit with sage butter…. oh the butter, oh the rabbit…. such a great dish, sod being gluten free, this is totally worth a cheat!!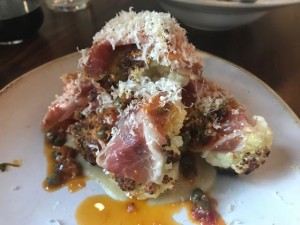 Sides all sound lovely the new addition of the night is the cauliflower with red peppers and capers, coppacollo and almonds – making cauliflower a delicious dish in its own right! Amazing!!
And then there is dessert, no matter how full you have to do it, I keep saying I'm not a dessert person, I think thats long since passed as I frickin love desserts now!! The Belgium chocolate with frangelico cream and walnut sponge rocked my world!!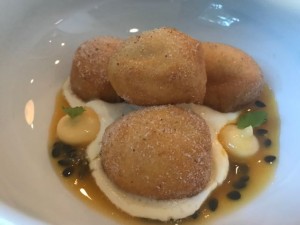 Bombolini with mascarpone, lemon curd and passion fruit was out of this world, the lemon curd I could have eaten by the bucket and those warm, soft little donuts. Love in a bowl people!!
The vibe is great here, the staff passionate and genuine and the food is bloody good too!