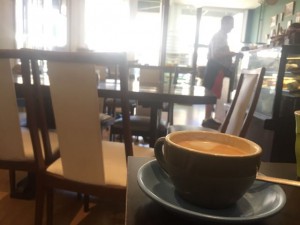 You need a good local café to provide sustenance on a weekend, when there's no food in the fridge or just no energy to cook, you can head to Left Handed Chef for a damn good feed. The team are always lovely and everything is made with lots of love and care, coffee with a smile and breakfast is never a stingy portion!
The menu has a heap of options for everyone, you can have toast with break freshly baked on the premises or eggs pretty much anyway you like or the classics with benedict and Florentine. There's granola and bircher, there's waffles and waffle doughnuts, there's big breakfasts, green breakfasts and also some surprise twists from chefs Israeli home.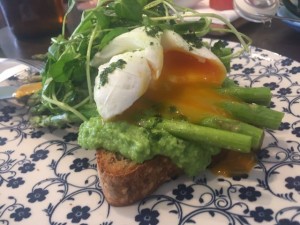 I love the 'LHC Famous Green Breakfast' With everything green! Crushed herbed peas, roasted asparagus (two big bunches!), salsa verde served on top of multigrain toast and poached eggs. I have mine with the home baked gluten free toast which is amazing!!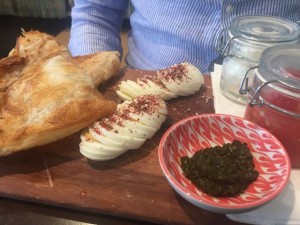 Hubby has been working his way through the Israeli dishes including the Malawach – (Yemenite Breakfast). This Puff Pastry like pancake bread is fried, served with boiled free- range eggs, grated tomato, Labneh, and Ehud's fresh green chilli sauce. Seriously how good does that look?! Anything with pastry and I am there! The tomatoes were fantastic, not sure what he had done to them apart from grating them but they are so fresh and tasty!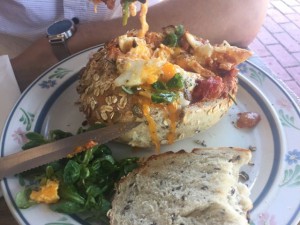 Hubby also tried the 'Shakshuka – Israeli style saucy eggs, served in a LHC bread roll with spinach and Fetta' one week, sounds simple! It's basically a whole mini loaf loaded up inside with saucy eggs, spinach and fetta – I challenge anyone to be able to finish this one!!!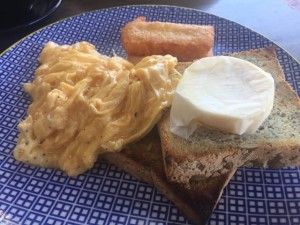 And then there is my latest favourite, simple eggs, gluten free toast, the best butter and fried haloumi cheese. The eggs are my absolute favourite in Melbourne, rich, fluffy, super yellow and perfect with toast dripping in butter!! Happy days!
It's a top place and there are plenty of gluten free treats on the counter to enjoy if you are that way inclined!