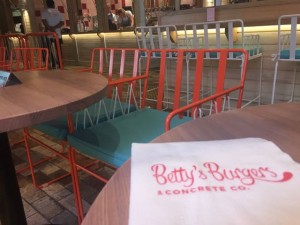 Betty's Burgers & Concrete Co. already has a few fans in Melbourne, we snuck in early one weekday but I wandered past yesterday and they were queuing out of the door! Hailing from sunny Noosa Betty's has a lovely vibe, fresh, colourful and a great menu.  We were in for opening so had the place to ourselves, strangely all of the tables had reserved signs but we were welcome to sit anywhere…. why the reserved signs?? It was lovely and quiet, there were a lot of staff waiting for the onslaught so we were well tended too.  Odd kid came in and had to sit directly next to us and block the aisle (you can sit anywhere in the whole place!!)  but he wasn't stopping me getting burgers!!
Burgers are your usual and some unusual, beef, cheese, chicken and mushroom as well as a pork belly burger.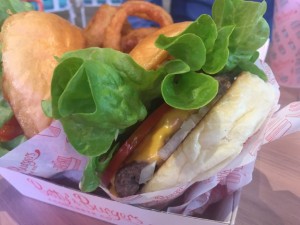 We tried a Betty's Classic with Angus beef, lettuce, tomato, onion, cheese and Betty's special sauce – super fresh salad, good beef patty, great bun and loved the sauce.  WINNER!!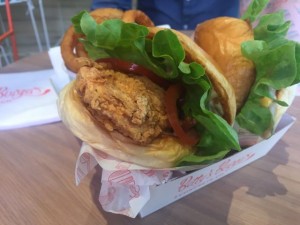 But the real hero of the day for me was the Crispy Chicken Burger, I never get a chicken burger as they are usually too big and dry but Betty's was the best.
Amazing dry crispy coating on the Southern fried chicken, super moist inside, in fact it came so quick I was worried it would be pink but nope – just juicy!! Loved this I could totally smash one right now!!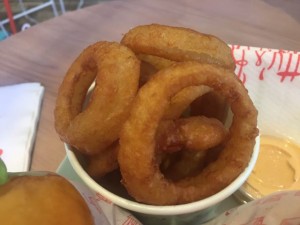 Also big kudos to the onion rings and sriracha mayo, super crispy outer and super soft inside I loved these, they are very naughty but damn nice!!
So the concrete bit…. Ice cream!! I was a little perplexed but once you see the menu it all makes perfect sense! AND they sound pretty awesome with Peanut Butter Brittle, Spiced pecan and banana, Honeycomb and orange biscuit, passionfruit and ginger, almond toffee marshmallow or hot fudge doughnut…. We have to get some concrete next time!
It was a damn good burger and probably the best chicken burger I have had in a looooong time, if you can get in you should get on this!