Aucuba
Breakfast in the sunshine at Aucuba makes you feel pretty good about life! It's a lovely place on the corner of Park Street and just far enough away from the noise of Kingsway. The menu is always tantalising and though I want the Mac n cheese toastie I opt for a healthier option.
The menu is pretty unique with a little something different from your regular avo smash. There is a clear message here about their ethos, now you mention it – there isn't the usual focus on dishes around bacon, Aucuba's menu is largely plant based and when they do use meat it is ethical and organic. The food is very much seasonal and they support local farmers and …. They are sick of smashed avo! The summer menu sounds gorgeous with Green Tea Panna cotta and Beetroot tartare with sundried tomatoes. Buckwheat waffles with cheery gel, coffee emulsion and Mushroom Katsu burger with sriracha slaw…. Yum!!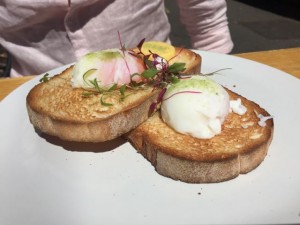 Hubby went good old eggs and toast and they looked delicious.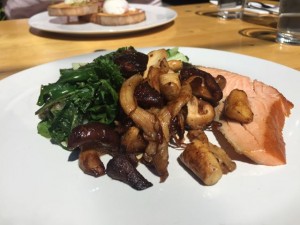 I did the awkward customer and with my cutest face and asked if I could order from the sides menu! Of course you can that ends up costing just as much as a dish from the menu!! The seasonal greens, Mesquite house smoked salmon and braised mushrooms was fantastic! I was super happy and felt super healthy. Great coffee, great space and great staff.