Breakfast in the sunshine at Aucuba makes you feel pretty good about life! It's a lovely place on the corner of Park Street and just far enough away from the noise of Kingsway. The menu is always tantalising and though I want the Mac n cheese toastie I opt for a healthier option.
The menu is pretty unique with a little something different from your regular avo smash. There is a clear message here about their ethos, now you mention it – there isn't the usual focus on dishes around bacon, Aucuba's menu is largely plant based and when they do use meat it is ethical and organic. The food is very much seasonal and they support local farmers and …. They are sick of smashed avo! The summer menu sounds gorgeous with Green Tea Panna cotta and Beetroot tartare with sundried tomatoes. Buckwheat waffles with cheery gel, coffee emulsion and Mushroom Katsu burger with sriracha slaw…. Yum!!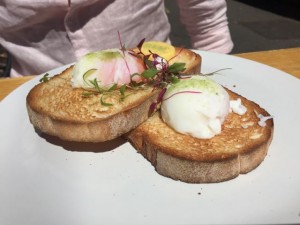 Hubby went good old eggs and toast and they looked delicious.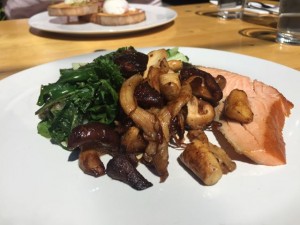 I did the awkward customer and with my cutest face and asked if I could order from the sides menu! Of course you can that ends up costing just as much as a dish from the menu!! The seasonal greens, Mesquite house smoked salmon and braised mushrooms was fantastic! I was super happy and felt super healthy. Great coffee, great space and great staff.
Previously published 8 June 2016
Aucuba is a plant, so I learnt when googling! But Aucuba Coffee Roasters is a fantastic new cafe in South Melbourne with a bright, slick fit out and a menu that will knock your socks off, yes you can have eggs on toast or you can have some unexpectedly intricate dishes from the guys here.
There are plenty of seats with the outside seating and it's a gorgeous sunny day so we are happy to rock up and get some coffee and a bit of brunch for a hungry hubby. Coffee was beautiful, even a decaf skinny flat white with no coffee or milk tastes good!!
So the menu is extensive and there has obviously been a huge amount of thought on what ingredients are in season, what makes for a formidable dish and what makes sense to charge and they have got this mix nailed! Think dishes like Matcha green tea and yoghurt pannacotta with lemongrass and saffron scented pineapple with passionfruit and nut granola or edamame, pea and labna with a poached egg on light rye and yuzu kosho ichilies, yuzu peel and salt or sweet potato waffles with dehydrated coconut shavings, spring onions, maple miso and served with parmesan ice cream and caramel popcorn – Seriously!! This is making breakfast very interesting again!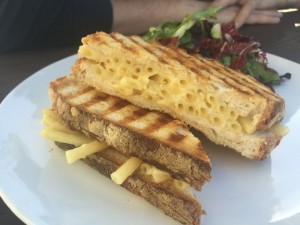 We were only after a small snack on our way to a fun day out but the truffled umami mac and cheese toastie with raddichio salad and a crisp balsamic dressing was a perfect dish to fill hubby up and I could steal a little bite or two!