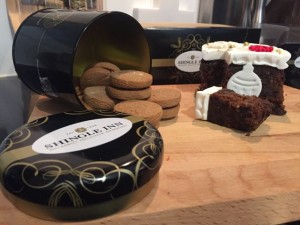 We love when we receive a Foodie treat in the mail and even better when it's a Christmas treat!! The lovely guys from Shingle Inn sent the FoodieAboutTown team a festive box of cookies and cake to sample.
I hadn't heard of Shingle Inn before but they originate in Brisbane and are famous for their cafes and ofcourse their cakes. Bringing an English style tea house to the east coast with quality products and since 1936 have been known as a famous landmark and for the queues out the door for their famous cakes. The owndership changed in the 70's but the Shingle Inn traditions remained until in 2002 when the original Shingle Inn was closed because of a development and the fit out preserved until it could be restored with another Brisbane icon, City Hall for all to enjoy today.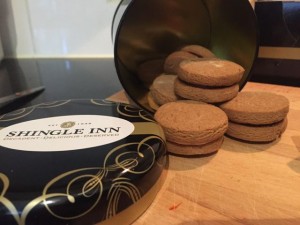 We were lucky enough to receive their latest edition to the Christmas range, Ginger Chocolate Kisses in special 80th Anniversary Commemorative tin, all I can say is PERFECT with a cup of tea!! We went terribly british with the whole thing and had a lovely pot of hot milky tea and dunked in these lovely ginger biscuts with their chocolate centre….. yum!!!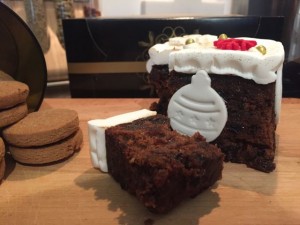 And what goes even better with a cup of tea at Christmas? A gorgeous little iced Christmas cake, packed with fruit and spice it was utterly divine! Hubby is saving the rest to go with a block of sharp vintage cheese – another English traditional apparently.
Check out the rest of the Shingle inn festive treats and cakes here