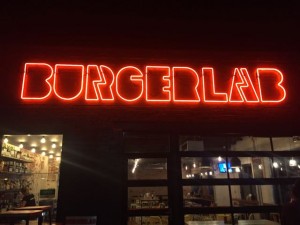 Burgerlab, an old garage in Parkdale converted into a very cool burger joint for the lucky locals. With two spots open out that way we can only dream they could come to nearer home but it's a short drive down the Nepean to get a damn good burger fix.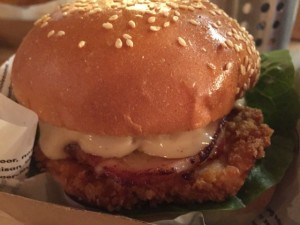 The menu has a range of non burger options with a good looking salmon, beef brisket and pork ribs. But I want a burger ….. Hmmmm decisions! I had to go the Special of the day – Parma Burger with crumbed chicken, cheese, tomato, bacon, lettuce and lots of sauce! Lots of sauce – you need a few napkins with all the juicy, sauciness but it is a good one and the bun held well to the end. Good quality chicken in a great crumby crumb Yum!!!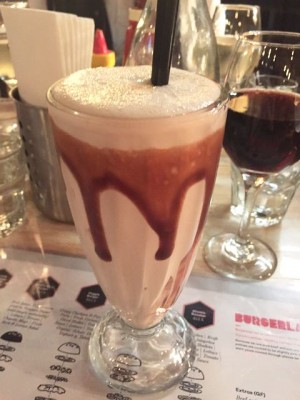 Hubby went the milkshake (designated driver!) chocolate think shake with ice cream…. It was damn good especially with salty fries 🙂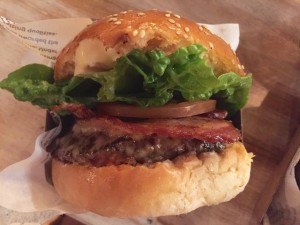 Hubby also went the free range bacon burger on brioche with beef patty, Hagens free range bacon, melted organic raclette cheese, tomato sauce, mayo, shallots, lettuce – sensational!!!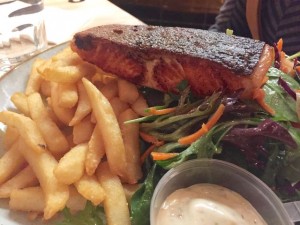 The salmon looked like a winner, only second, third and fourth to the burgers!! But a beautiful piece of fresh salmon with salad and fries… Anyway back to burgers!!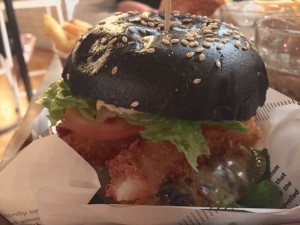 Somebody is obsessed with the Chefs Nero Burger! Squid ink brioche with Skull Island Crumbed King Prawns with chipotle mayo and a fresh herb and lemon salad. As if that wasn't enough somebody then puts a beef patty in there! I have to admit it was 'effing delicious!! Words can't explain how beautiful it was!!!
Beer battered fries were rockin' and it was a damn good feed. Service lovely, it was happy days all round.