I had maybe overhyped this one to friends but we had a really nice time the last time we visited Brunswick Mess Hall and it didn't seem to shine as bright this time. The menu had changed up a bit which is all fine and even though there were a couple of dishes I missed there were some new to try. There were some frequent check ins to make sure we were turning up for our bookings, the usual ring just after you book and then when we were running 10 mins late in traffic we got a call too – maybe a bit much!!
It was still a rowdy, cosy, cool and fun spot and apart from the children charging around like it was a playground (parents fault, not restaurant) it still felt like a great place to have a drink and share some good Asian food. We ordered some wines from our somewhat flustered or nervous friend, he seemed intent on going through the menu and the style of food even though we were all ok and ready to eat.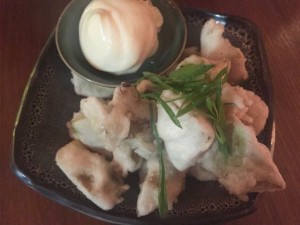 Eggplant chips were nice, everything tastes good when it's fried and in kewpie mayo! Hubby had a raw one that wasn't pleasant.
Now, I'm not sure if I am being unreasonable but is it such a big ask, if a restaurant insists on serving things in threes that you ask (and pay) for the fourth so that everyone gets one? It seemed to be a big ask, the kitchen were consulted and there was some guff about streamlining blah blah but ultimately no you cannot…. Ok – whatever works!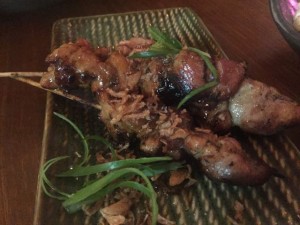 Sadly when the pork skewers arrived we only seemed to get 2 ½ anyway as one was a ratty little bit of meat and fat compared to the other two sticks. We ordered the chicken ones too and two of us gnawed on half each to try them, they were pretty tasty.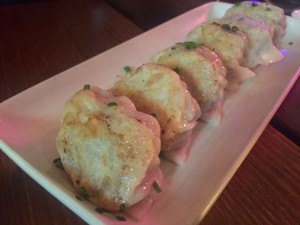 The gyoza were big, fat dumplings with a nice enough filling with pork, prawn and shitake mushroom, suitable wobbly coats though hubby strangely rejected them and he's been addicted to dumplings lately.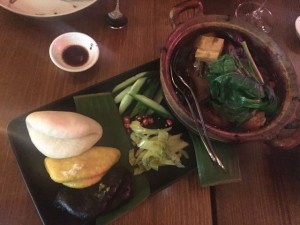 The 12 hr braised pork hock with masterstock, silken tofu, shitake, 3 colour bao (not four!) and thai pickles – what a great dish, the massive pork hock just lurking in the stock and once you push past that gelatinous layer of fat and skin there is beautiful meat underneath. It was a really nice dish, perhaps a bit much at $33.50 and again with the 3 bao between four so someone misses out.
We ordered the drunken chicken which never showed up – was obviously too pissed to find our table!! When we asked the first time we were told it was just on it's way… should just be honest if it's been forgotten as it still wasn't there 20 minutes later. I really liked when I tried to flag one of the ladies flying past and she stuck out her finger in a you just wait one minute … the rest of the table were pretty shocked.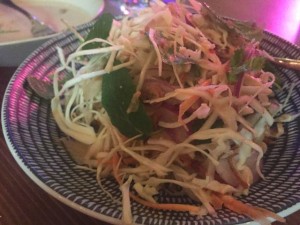 The Asian coleslaw was nice enough… good spice, not overly creamy.
It was an ok night, not the best and I don't think I'll be as keen to come back again but c'est la vie I am sure there were lots of other tables had a great night.