Supernormal is a great looking restaurant, a huge bar runs along one side where you can wait for a table or sit next to the people you are waiting for for at least 5 minutes before you realise!! And then you get a table! Or you can eat at the bar too. The dining area is a relaxed and nicely spaced area to sit back and enjoy some shared plates with some good friends.
The menu is divided into segments with small appetisers sesame cucumber, pickled vegetables and kimchi, there is a raw bar with oysters, kingfish, tuna and sea bream and the dumplings and bao include spicy beef buns, dumplings, pot stickers, lobster rolls and duck bao. Other options include marinated mushrooms, cuttlefish salad, chicken and tofu, roasted cauliflower and eggplant salad. Meaty options include short ribs and slow cooked lamb and there are plenty of sides to add to your feast.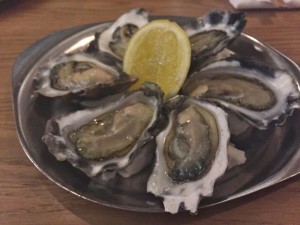 Oysters were great though not completely shucked, my fellow diner agreed it isn't unreasonable to expect your oyster to be shucked and I am not good at it so when I am paying $5 for an oyster I don't want to shred it trying to get it off the shell.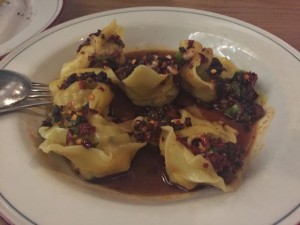 Prawn and chicken dumplings with chilli and vinegar sauce were fantastic, good chilli hit!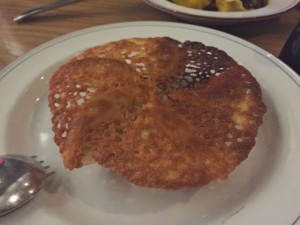 Pan fried pot stickers looked so pretty when they arrived with their lattice linked little dumplings – tasted great too!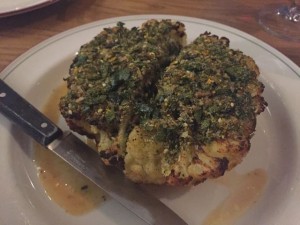 Roasted cauliflower with miso and furikake was amazing, I love cauliflower and this was a great way to serve it, though perhaps a little pricey at $17.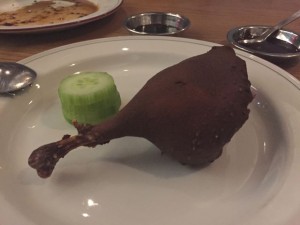 Duck bao was pretty good, the duck leg is served looking all gnarly and you shred it up and then stuff into the super soft little bao cushions with plum sauce yum!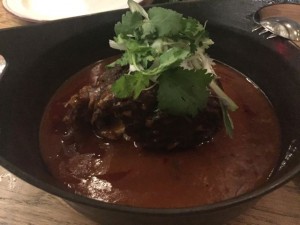 Slow cooked Szechuan lamb was nice but wasn't falling apart when we went in to serve it up, it tasted nice but the best part of the dish was …..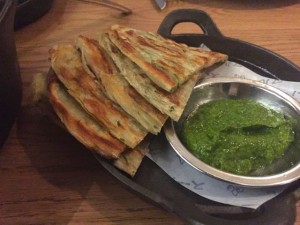 The spring onion pancakes were the best ever! I could have eaten a whole heap of them – Super Yum!!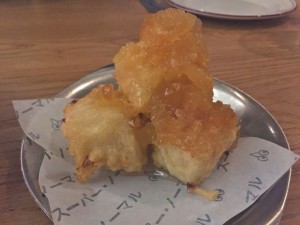 Desserts were all too tempting with fried ginger custard – ROCK MY WORLD FANTASTIC!!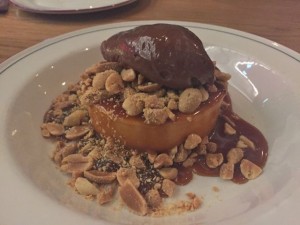 Peanut butter parfait with salted caramel and soft chocolate was sensational! The desserts were my new favourites!! Supernormal was a nice enough dinner, there were some highs and no so highs but we'll always have ginger custard!