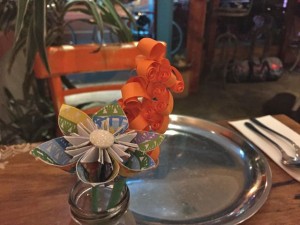 It's always a pleasure to be invited to visit a restaurant and even though I drove the guys crazy changing due to various illnesses across the team we made it and it was well worth it!! It was a cold, dark night when we dropped in to see Mukka on Brunswick Street but we soon warmed up with their friendly welcome and Indian inspired cocktail list. Food wise – it all sounded fantastic so we were totally open to the 'feed me' option – I'm not good when I have choose between food!!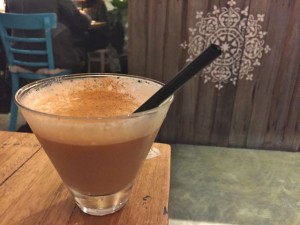 The Chai-tini, "Find out what happens when chai tea and martini fall in love!!" the result is beautiful! Smooth, creamy, rich and tipsy!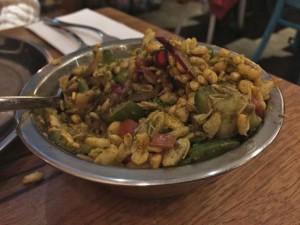 Feed me is just $35 a head and was a perfect amount of food so you got to try lots but you didn't have to be rolled out afterwards!! The Bhel Puri with puffed rice, red onion, cucumber, tomato, bombay mix, mint and pomegranite was delish and perfect with a cold beer.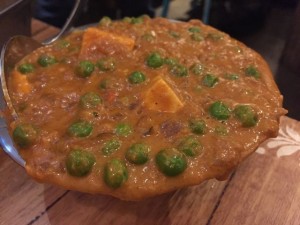 Matar Paneer, over flowing with delisciousness "A humble vegetable curry of cubed paneer cheese and peas cooked in a tomato based gravy. A signature of any good roadside dhaba" And just damn good! Loved this with the firm cubes of creamy paneer and deep, spiced gravy.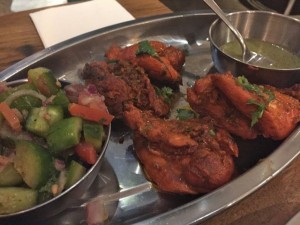 Lovely, lovely Chicken Tikka with "Succulent and juicy pieces of chicken thigh fillet, marinated overnight in a subtle mix of spices and yoghurt then cooked in our tandoor oven. Served with fresh kachumbar salad". Great kick to this one and super tender chicken – a really tasty little number!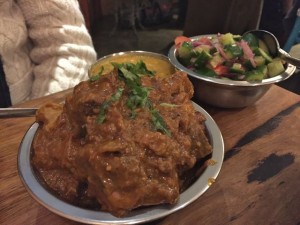 Another generous bowl full of Slow Cooked Goat Curry "We cook goat as its Eid al-adha everyday! Slow cooked for a minimum of 4 hours in a tomato and onion gravy to ensure the goat is cooked till the meat falls off the bone." Seriously great, we've had a few goat curries lately and I would say this was one of the best and that meat absolutely did fall off the bone. Along with garlic naan and a serve of Dal Tadka it was a perfect Indian feast and we loved every moment of it!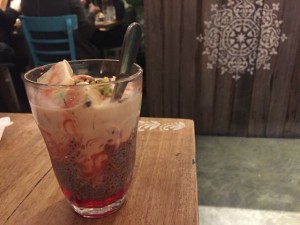 Always room for dessert though!! Bombay falooda Kulfi! refreshing, smooth pistachio kulfi with rose syrup, falooda (like a vermicelli) and tapioca pearls – LOVE LOVE LOVE!
There is a lot of love at Mukka and locals are very lucky to have this little beauty to drop in on at any time, we'll definitely be coming back again soon!