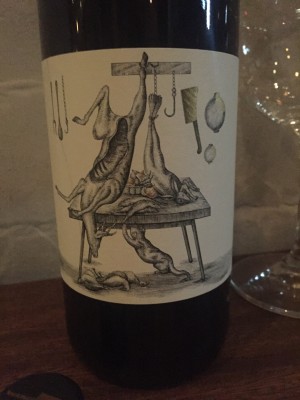 It's always a good night at Hercules Morse and there is always a good wine recommendation. Ash will match your wine to your palette or mood or he will whip up a cocktail to help soothe the day away! The food is fantastic and you can see it all coming together in the open plan kitchen – you won't believe the flavours that come out of that little space!!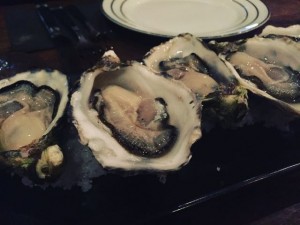 It's a tapas style menu with plenty of different styles of food to suit all, we started with perfect freshly shucked oysters, completely shucked too – none of this hey I'll charge you $4 for an oyster and then you can massacre it yourself trying to shuck it!! No these are ready to slide straight in and you can enjoy with a raspberry mignonette granita or warm chorizo and cherry vinegar. They both sound fab but I love a good fresh oyster just with lemon and a cold chardonnay!!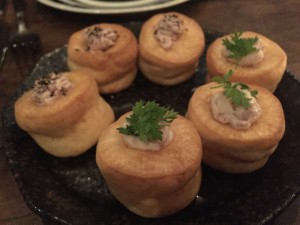 HOW cute are they? Little cheesey puds!! Piped with a prosciutto goats cheese and a black olive goats cheese these are the little dish that you will fight over for the last one!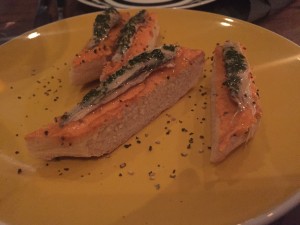 An original favourite – fish fingers with white anchovies and tomato butter with butter and parsley oil – not your average fish finger, I adore white anchovies and there are perfectly balanced with the tomato butter and oil.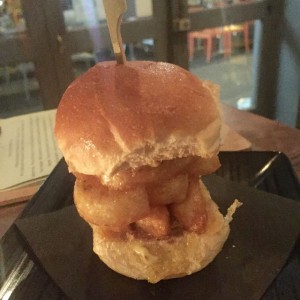 Hubby loves a 'Chip butty' with duck fried potatoes in a truffled butter roll – how could you not!!
The cauliflower and cheese balls with dijon mayo and lemon and rosemary salt are divine, luckily they stay in the kitchen until they are no longer molten as I would not be able to stop myself!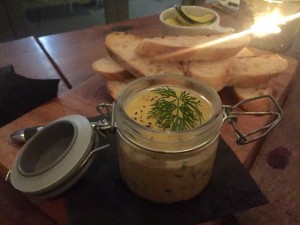 The salmon rillette was completely lip smackingly delish with pickled zucchini and plenty of crusty baguette – smiles all around
The Hercules Morse cheeseboard is legendary, you get so much good stuff including perfectly rested, oozing cheese, homemade biscotti, lavosh, fruit, nuts and flowers – it's almost too good to eat…. NAH!!!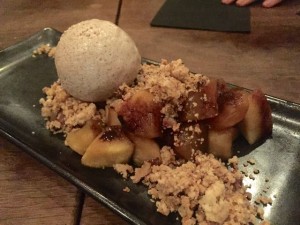 And then there are desserts…….. Deconstructed apple pie – tarte tatin apples with apple balsamic reduction, pecan and cheddar crumble and cinnamon ice cream – Hell yes!!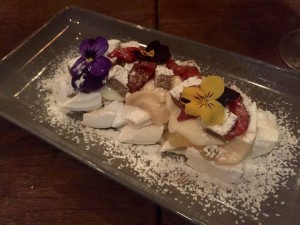 Eton Mess with meringue, lemon passionfruit curd, white chocolate blondie, burnt honey pannacotta, roasted strawberries and spiced rum cream – that blondie is the best thing I have had ever! Give me a whole stack of that right now and we'll forget the diet!!
It's a top spot and you can't help but have a great night – though you may need to be rolled home!!!