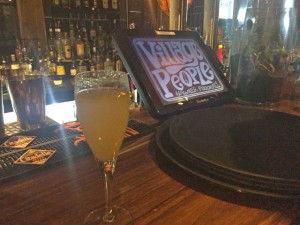 We were all too keen to accept an invitation to a Rum Degustation night! Hosted by the team at Village People Hawker Hall and Plantation Rum, we were promised a Thai-tastic night! Village People Hawker Hall is a great space in the new 127 Brunswick Street set up with excellent neighbours such as Ichi Ni Nana and Upside Bar there is just too much good stuff happening in one building!
We were in the big back room which is perfect for an event or private function, with more than enough room for all of us at two beautifully decorated, long tables. We were welcomed with a Plantation Rum cocktail spiced with ginger and lemongrass, pineapple and chilli jam and topped with Prosecco – sensational. I can't say I drink a lot of rum apart from the odd Mai Tai but I was happy to be converted over this amazing degustation.
Specialising in a mix of Laotian, Cambodian, Indian, Malay, Burmese and Thai flavours, Village people is described as a South-East Asian hawker market meets beer hall. The menu is a whole heap of deliciousness with prawn betel leaves, silken tofu, caramalised pork, son in law eggs and larb, with lots of key flavour profiles like chilli, coriander, lemongrass, thai basil and lime.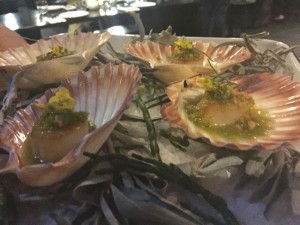 Our first dish was a sensational scallop served on the shell with green nahm jim, perfect little fat caramelised scallop with a massive flavour punch from the dressing – delish!!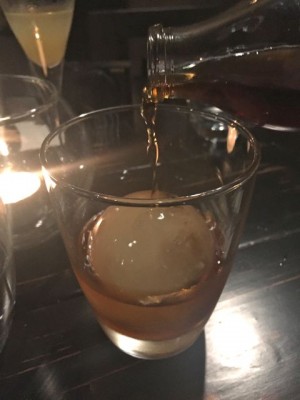 Cocktail number 2, a clove and orange infused rum negroni, aperol and vermouth blanc served over an ice sphere – Wowser! I am starting to really like rum!!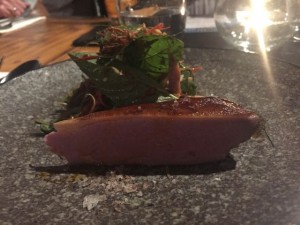 The kitchen smashed this one out of the ball park with perfectly cooked duck with banana bell, thai basil and roasted shallot dressing, how you cook this for so many people I have no idea!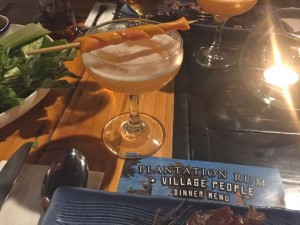 Guyana plantation rum with crushed coffee bean, held down & exposed to house made grapefruit marmalade and kola nut bitters, rinsed with maraschino liqueur – just amazing!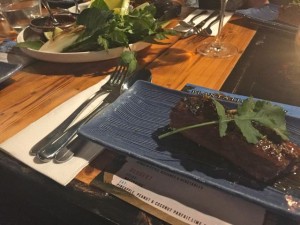 The grilled beef rib with a selection of relishes and dips and a garden of fresh vegetables was an absolute favourite with beef falling apart at the touch and then wrapped and topped with those house made sauces – they should bottle these beauties!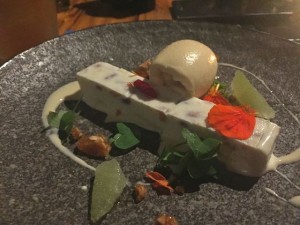 The finale was a waterbird cocktail matched with a pineapple, peanut and coconut parfait with lime syrup. A delicious end to a great meal, the guys put on a great show tonight and confidently demonstrated that they know their stuff! There is obviously a lot of passion both in the kitchen and front of house and we loved every minute of our rum and thai-tastic adventure!