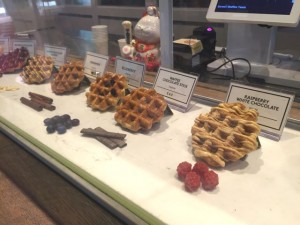 Quoting from their site;
A mutual passion and the dream of a perfect waffle led two brothers to Belgium. Many waffles later, they returned with a secret recipe in hand.  Combining quality ingredients with love, each crisp golden waffle is handcrafted to bring you a new
taste sensation.
I am a big Waffee fan, I'll often start a Saturday shopping session with a quick coffee and a delightful waffle – well you have to keep your strength up!! Choose from Belgian Chocolate or cinnamon or white chocolate raspberry or blueberry…. try them all, they are all amazing. You can see the waffles being made in the back of this tiny little store and they also do a damn good coffee!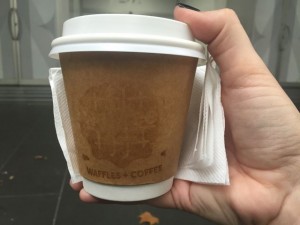 Today we went with….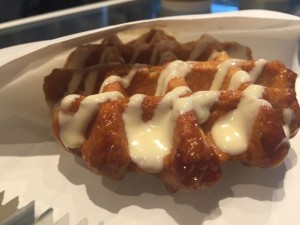 White chocolate waffle… it is sooooo good, not too sweet and just drizzled with creamy, rich white chocolate on a firm, crisp perfect waffle.
It's a happy place, go see Waffee!!