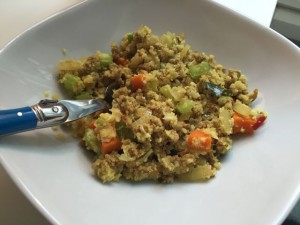 Trying to create interest when you are a Health Food Boot Camp means getting a whole lot of flavour into your limited ingredients and also trying to make it appear like you are treating yourself to a lovely takeaway! Cauliflower fried rice is a genius idea and with some choice flavours you have a damn good dish for a lazy diet Sunday!
Ingredients;

500 grams of lean pork mince
2 tsps five spice
2 big spring onions chopped finely
1 red onion finely chopped
1 carrot diced
1/2 tsp of garlic
1/2 tsp of ginger
Salt and Pepper
1 x red chilli chopped
1 small cauliflower head
Method;
Cut the cauliflower into florets and whiz in the food processor until the consistency of a cous cous.
Pan fry garlic, onion, five spice, ginger, carrot and then put to one side. Pan fry the pork and make sure you break up the mince and then once done add back in the aromatics and then place to one side.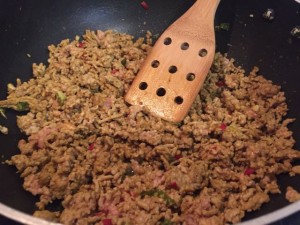 Put the cauliflower with the salt and pepper in a big deep pan and turn over every 2 minutes to start to brown and dry out the cauliflower 'rice' while it cooks. Careful not to turn to roughly as it will mush.
Once the rice is done put the rest of the ingredients into the pan and warm through, add some cooked peas or sweetcorn and a sprinkle of chilli flakes if you like it hot!
Serve in a bowl with a spoon and a couch to curl up on – perfect Sunday night easy dinner!
Enjoy