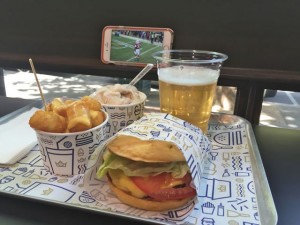 Hmmmm burgers, potato gems, frozen custard and…… what more could you want? Popping up at the Spencer Street end of Collins it has obviously been something everyone was missing as there is barely a seat in the house 30 minutes after they open on a Monday lunchtime!
The menu makes me smile! Who doesn't smile at burgers?! It's simply good food, well bad food if you are going for nutritional value! But everyone is allowed a day off and hubby is thrilled when a tray arrives with lunch and a beer as he watches the NFL on his phone…. boy heaven!!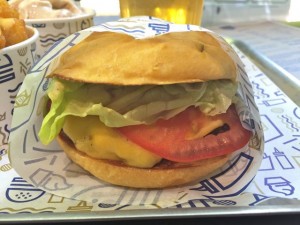 The burgers are the usual mix of plain to decadent, the Miss Elizabeth has truffle mayo! I am more of a single stack kinda gal! Just a damn good burger, done well. And it is a great burger – you know how this goes….. Bun – perfection, best in ages, held till the last bite but didn't overwhelm the meat. Burger – good quality, tasty, pure quality. Sauces – liked a lot, the Royal Stacks special burger sauce is a WINNER!! Accompaniments – Love a little butter lettuce, little tomato, super fresh. Cheese – professionally melted to the patty – 10/ 10!!!
In a word – LOVE!!!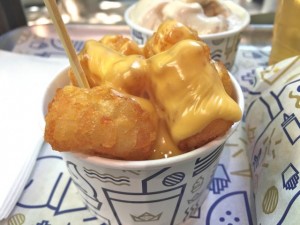 Potato gems with naughty plastic cheese sauce were sublime!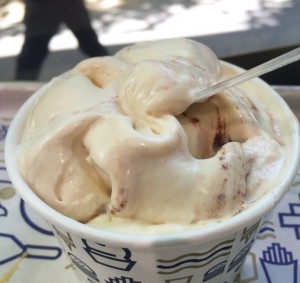 AND frozen custard – now I am a custard fiend, those custardy danish – LOVE, custard donuts – LOVE, hot custard – LOVE LOVE!! So anything thick, yellow and unctious is right up my road. So slight confusion with the frozen custards that are really ice cream… I get that ice cream is made from a 'custard' but I was hoping for some sort of new revelation in the sticky yellow custard world!! Why don't they do frozen yellow custard treats??? Might look into that one!! Anyway my Kinder Surprise Frozen Custard was still out of this world delish – not that we could finish everything but it was definitely worth a few calories!!
Stacks of fun for everyone…. just expect to queue!!