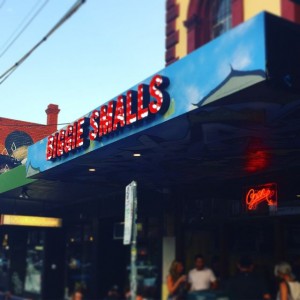 Shane Delia's new kebab house on Smith Street is fun, fresh and taking the Notorious B.I.G to another level with a menu full of throwbacks to C Wallace and the crew! The menu starts with your first step to your kebab – what sauce are you? Old Skool with garlic and mint or New School with kewpie mayo – frickin' genius move – kewpie makes everything rock!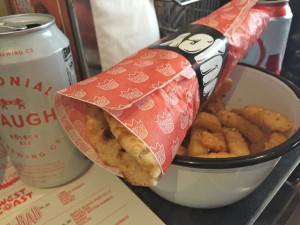 Then it's off to selecting what kebab you need in your life right now…. the C Wallace with a flaxseed falafel, leaves, pickled bits and smoked hummus…. was CW a vegetarian? Sounds good anyways! West Coast has some shrimp going on, A-Rab has the lamb, East Coast is pulled pork and then you have the Juicy – spicy beef kefta with cumin and onion. The Dirty South is fired chicken and pumpkin pie and the
*WARNING*
KBABS CONTAIN BIGGIE HOT SAUCE
TAKE A PASS IF YOU AIN'T INTO THE HEAT
This isn't your dirty kebab – you can get that a few doors down, this is the more refined version with those lovely fluffy pitas and good quality ingredients not the version where everything has been mashed up into a huge elephant leg and carved off in greasy ribbons!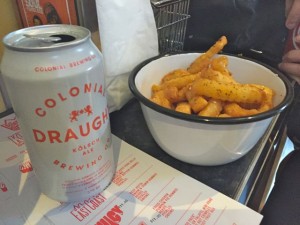 Sides come with crinkle fries with secret herbs and spices, the 'Phat Touche' Salad took me a while to get! Do you get it….?! Enjoy corn rows and save room for a Peanut Butter Caramel Injected Pretzel…… missed that one!!
They may not be taking life too seriously here but they do take their kebabs seriously and it's a perfect spot to settle in with a cold beer and enjoy!