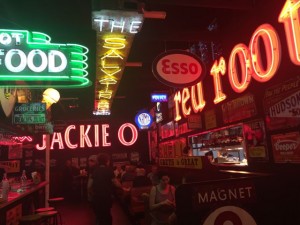 Moorabbin Best Burger? Quite possibly! Fat Bob's is a fun American diner-esque space, neon lights, beers, burgers and it's a good night for all.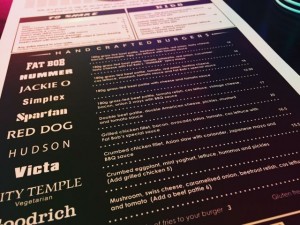 The menu ticks all the boxes, every burger has a name and they cover all bases with spicy, plain, loaded and veggie.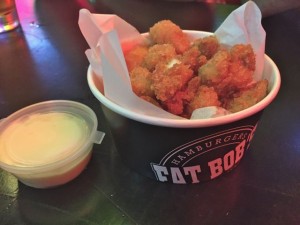 You can start with a few dishes to share, but be careful you don't fill up too much like we did the first time. Loaded fries, guac, wedges and some very lovely popcorn chicken – bliss!!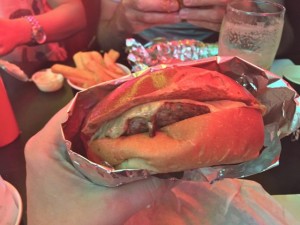 So I went for the 'Simplex' – burger, cheese and sauce. It was sadly just too simple, it was a bit dry, more bun than burger and I regretted my choice, the 'Hummer' I had last time was in my friends hands tonight and it looked bloody great – burger, tomato, jalapeno, red onion, tasty cheese, cucumber and Bob's spicy mayo. It was oozy, rich, spicy and I had total food envy!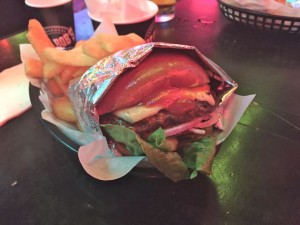 The 'Jackie O' with burger, tomato, red onion, fontina cheese, lettuce, mustard, tomato sauce and Fat bob's special sauce also looked a winner with just enough going on and hubby chowed down quite happily!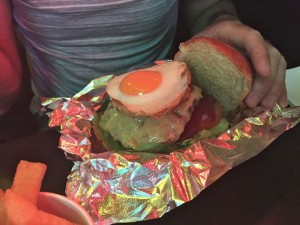 Presenting the 'Fat Bob' – burger, beetroot, tomato, red onion, cheese, bacon, pineapple, egg, lettuce and tomato sauce. It's everything I would never choose on a burger, though it looks surprisingly tidy for the amount that's in there! It's a big boys burger and our friend loved it – to each his own, I love beetroot and I love pineapple but not together on a burger! But for the girl whose burger was just too simple maybe this was the other extreme!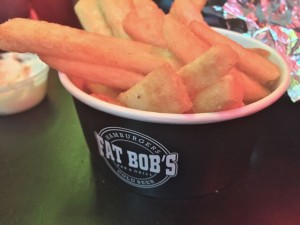 Fries deserve a mention, good crispy outer and soft fluffy potato – perfection.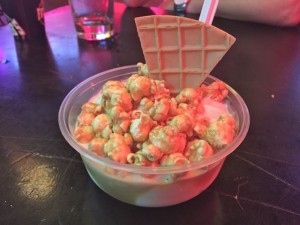 And just when you think the number of calories the boys have consumed couldn't get any bigger – they have to each order the salted caramel popcorn sundae! I stole a little, it was decadently, sugar-tastically delicious but I couldn't of eaten a whole one!
It's fun, it's friendly, it's Fat bob's and we wouldn't change a thing!