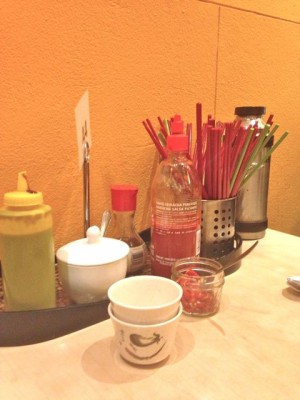 My new favourite discovery – Thursday night shopping, drinks and dinner – Melbourne CBD we love you! Hour of power shop and a cocktail is time well spent but there is no way we will be cooking by the time we get home so we wander near the tram stops and check out the many restaurants at the top of Swanston and look for the best looking one, with plenty of people in, looking happy and have a spare table for two. The Vietnam Noodle House is a no frills, cash only, thermos on the table with a tray full of chilli condiments, kind of joint. The menu is big, the service is easy going and friendly and surveying the other tables as we came in they look like big portions of delicious Vietnamese favourites, plenty of big, steaming bowls of pho and noodles being shovelled into the faces!!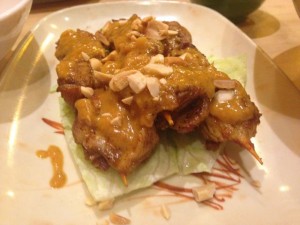 Trying to make good choices these days so though I want the deep fried spring rolls and fried wontons we go for the Satay Chicken Skewers, ok the peanut sauce is probably not on the health plan but the chicken is well cooked with has that great charred taste without getting too dried out.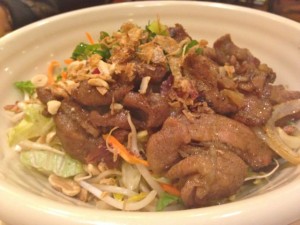 Rice Vermicelli with BBQ Pork and a fabulous chilli and lemongrass dressing is sublime, finely sliced pork, big pile of noodles, bit of salad and some crunch but it's all about that sauce! Oh to be able to make that well!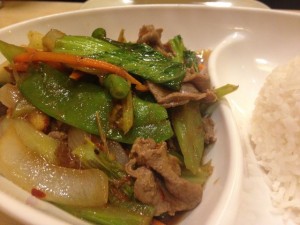 Beef and Vegetables is another attempt at healthy and avoiding the pile of lovely white rice it is a great one, if I don't ask what's in the gravy!!
Generous portions all around, somewhere to sit and watch the world go by with a cheap beer and you'll seriously fall over when you get the bill! Dinner for two under $50 including a drink… in Melbourne?! Brilliant!!