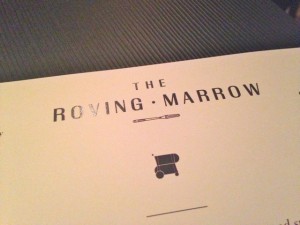 Let's just put it out there…. hands down one of the best meals I have had in a long time! Amazing food, creative menu, brilliant staff and all round a really lovely evening. We were lucky enough to be invited down to see what was happening at the Roving Marrow and I couldn't believe the change around for The Astor, a once daggy old pub with very few reasons to venture inside. Now a modern, chic front bar leads through to a seriously good restaurant.
With a yum cha style entree going on we quickly settle in with a little kombucha and start to debate through the tantalising menu choices… if only we could eat everything!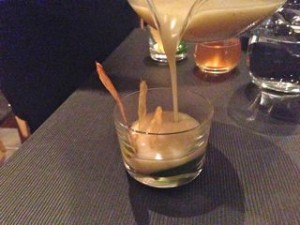 A little amuse bouche to start off with and the potato and leek soup with spring onion puree and potato shards is a sensational little mouthful with rich, creamy soup with a gentle hit of the spring onion.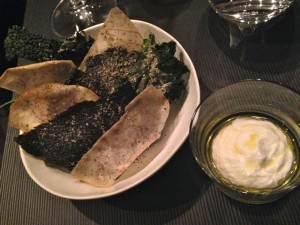 A bowl of chippies! Well perfect, homemade chippies with taro, kale and nori and a goats cheese and olive oil dip…. OMG, if you could buy these buy the bag for a cosy night at home!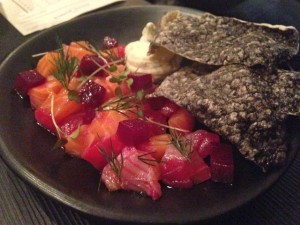 Beetroot cured Ora King Salmon, fraiche and crispy salmon skin is incredibly fresh and super tasty, a perfectly balanced dish with that perfect crunchy of the salmon skin.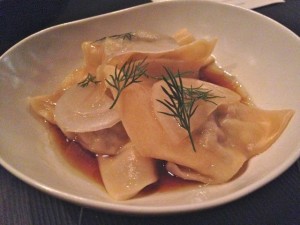 The short rib dumplings with masterstock and balsamic are pillows of heaven, light, perfectly held dumplings dough with a super rich, dark, short rib filling….. hmmmmmm.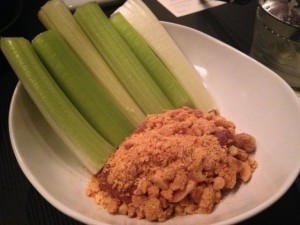 The parfait with celery was a fantastic contrast with the super, luscious, rich liver pate and crunchy fresh celery – so good.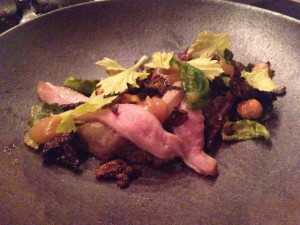 The Maryland duck with brussel sprouts and celery leaves was rock your world good, just a perfect dish of flavours and quality produce.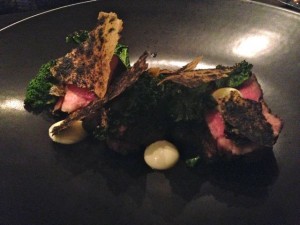 The Flinders Island lamb with charcoal eggplant and ricotta is so pretty and pretty damn delicious, perfectly pink and tasting just divine we teamed this with the broccoli, garlic and macadamia and it was perfection.
So very, very spoiled, the guys couldn't have looked after us any better and we felt very lucky to have such a wonderful meal and then there was still dessert…..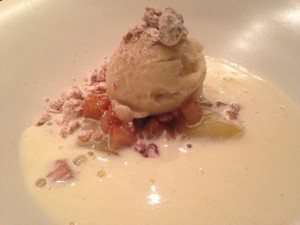 Oh Baby!! Apple, rhubarb, buttermilk and rosemary – not a traditional dessert and presented elegantly and just a perfect picture …. and it tasted bloody good too!!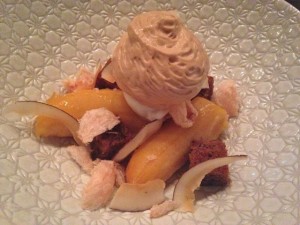 Caramel roasted banana with milk caramel and coconut….. who the hell made bananas so sexy?! A dish of true definition and technique, it is one of those dishes that you want to taste everything separately and then when you put it all together – happy sigh!
What a wonderful night, special mention to the lovely Penny for looking after us so well but kudos to the whole team at The Roving Marrow – they rocked my world and you should let them rock yours a little!!