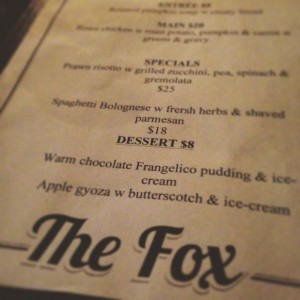 Everyone needs a good local pub and South Melbourne has been missing one for a while but lately there have been a few contenders including the Fox at Montague or The Monty as it's affectionately known. It's a friendly, warm local with a good size front bar and a bigger eating area around the side.
The menu has a lot going on with small bites across spring rolls, tacos, mussels, garlic bread or move into bigger plates with parmas, burritos, steak, fish and chips and some great sounding vegetarian options.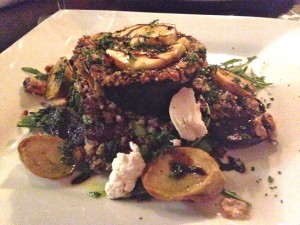 The crumbed eggplant medallions topped with relish and halloumi with a super salad of quinoa, pecans, beetroot, pine nuts, feta, chats, cranberries, greens, aioli and zatar. A dish packed with plenty of flavour, you barely miss the meat!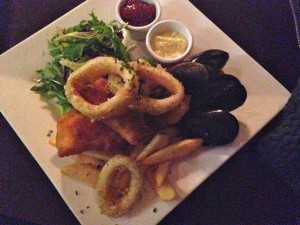 The Monty Fish Plate with pan fried mussels and prawns in saffron butter and wine, salt and pepper squid, battered fish, chips, salad and a tartar relish. It was a bit of a greedy choice but it was so worth it and I always share!! Great quality seafood, loved the battered fish and chips and the squid was epic.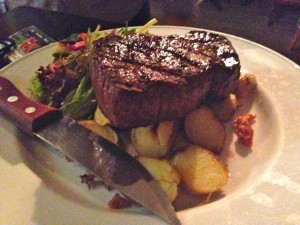 Friend had a very respectable steak, good size and great prices all around at The Monty. AND… they do some bloody good dessert!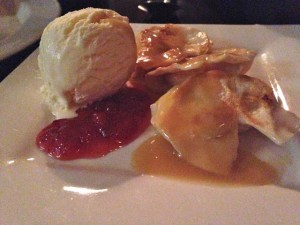 Apple Gyozas – oh yes they did!! Lovely little sweet apple pockets with a little compote and vanilla ice cream – perfection.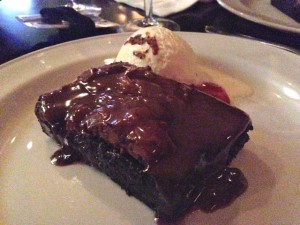 Chocolate frangelico pudding…. oh I love, love, love, soft, gooey choccie cake with oozey choccie sauce, seriously good!
It's local, friendly and worth a stop by if you fancy a beer and some very good pub grub.
——————————
Food 7/10
Service 7/10
Music 8/10
Toilets 5/10
——————————