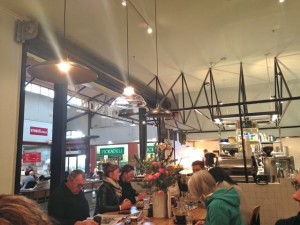 Proper & Son are adding a little more hipster to South Melbourne Market, with a clean, fresh layout, tantalising cakes and a seasonal fresh menu to deliver breakfast or lunch when it calls. Breakie can be homebaked banana bread with honeycomb butter or Brioche with roasted stone fruit and hazelnut mascarpone or Buttermilk hotcakes with maple, pecans and lemon curd. Be tempted with a potato and corn beef cake with egg their own HP sauce. 'The Marketeer' with smokey bacon, soft egg and onion roll or a 'Gordon Bennett' smoked trout, mustard, gruyere omelette.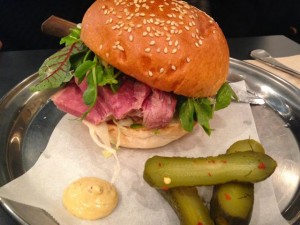 Lunch is a selection of salads and bites like Roast Beef, horseradish cream, market greens or Proper salads with Grilled eggplant, tahini and oregano or Soused cucumber, sesame and miso. Hubby went for the corned waygu brisket with pickles, cabbage and mustard.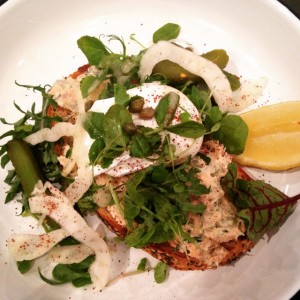 My smoked trout rillettes with fennel, egg and pickles was pretty damn gorgeous, laid on a piece of fresh, multigrain bread and scattered with some shaved fennel, capers and salad leaves, it was a very enjoyable dish…..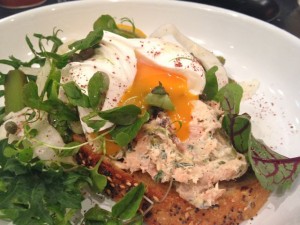 Oh yes look at that egg! That's what we call yolk porn!!
It's a nice spot, it was pretty busy with the pram brigade and the noise carries in the big space but it was a great breakie and good coffee too.