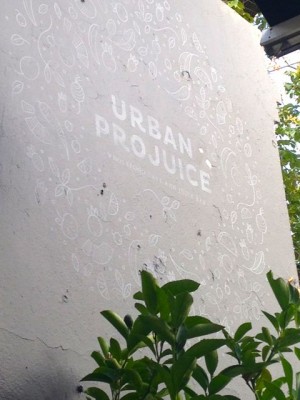 New cafe in Albert Park, here's hoping it breaks the jinx on this spot as it has had a lot of reincarnations over the years. Cafe – Smoothie & Juice Bar – Health Food Restaurant – it has a nice look and feel and it is pretty busy on a long weekend and I think the usual new restaurant jitters are causing service to be a bit haphazard, tables aren't cleared, not enough menus to go around and everything takes a little longer than it should.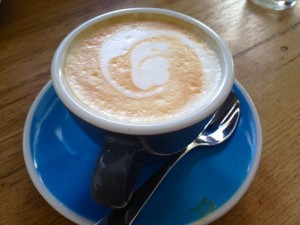 Coffees took their time, the baristas were slammed with cafe and take away orders though it did seem a better option to go and get a takeaway as we watched a lot of people come and go before ours arrived.
Once we get the boys over the news that there was no bacon with breakie they worked through the menu to find a few options. Lots of lovely choices, Matcha bowl, Acai Bowl, Bircher or Banana Pancakes! Smashed avo with raw sprouted bread or lunch options cover veggie curry, Urban nachos or Falafel Wraps.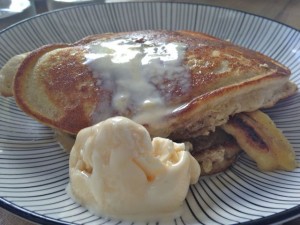 Banana pancakes for the sweet tooth, went down well, served with caramalised bananas and ice cream.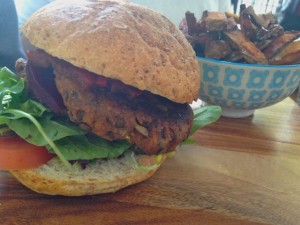 'Mummas Burger with house cut chips' Tandoori Sweet Potato burger went down well with the carnivorous husband, in fact he seemed to really enjoy it, though it did take a really long time so he may have just been too hungry to care by then.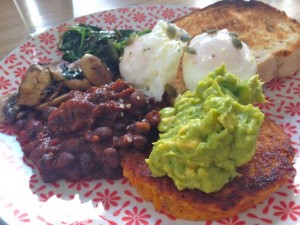 The Big Breakfast with corn fritters was really good, a bit cold by the time it got to us but still very delicious. The corn fritters were not the stars on this plate, the house made beans were great, the avocado fresh and creamy, mushrooms yum, wilted greens delish and two poached eggs that gave off some serious yolk-porn!!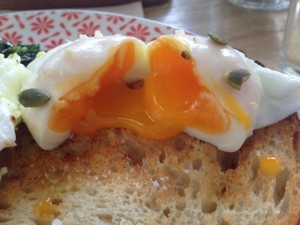 It was a bit of a wait, but I imagine they will find their groove quickly, staff were nice, food was good.
——————————
Food 7/10
Service 6/10
Music n/a
Toilets n/a
——————————