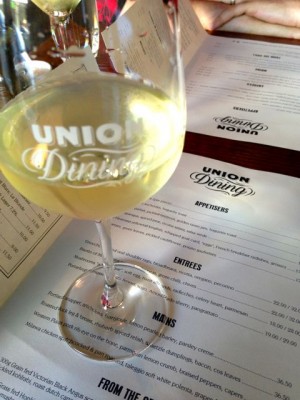 On a balmy night in Richmond why not pop to Union Dining, it's relaxed fine dining with friendly staff, fresh décor and good food.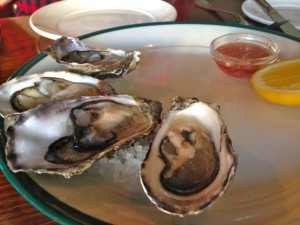 We are in early so it is pretty quiet which is quite nice, our lovely waitress looks after us really well and we quickly have water, menus and a glass of wine/ The menu is separated into smaller dishes to start with, entrees and then mains. With a cold glass of Gruner Veltliner we can't go past a few oysters, I don't get why kitchens don't shuck oysters completely, I just want to pick them up and slide them out… but that's just me! They were delicious.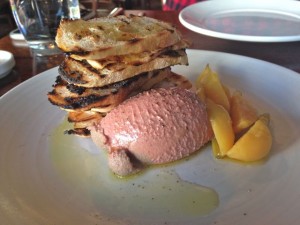 Rather than fill up too much on entrees we go for two of the smaller dishes with the Chicken liver parfait with pickled beetroot, golden raisin jam and baguette toast. The parfait is super light and smooth and slathered on the wafer thin baguette toasts it is lovely. I didn't actually like it with the pickled beetroot as it overpowered the delicate parfait but I enjoyed them separately.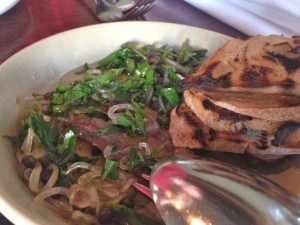 The Agro dolce Ortiz anchovies were a lovely little dish, you can't go wrong with these little fish. Both lovely light dishes, the prices at Union are at the higher end with these small dishes coming in around the $15 and entrees starting at $18 to $22. Mains are at the $35 mark and more for the steaks and the daily specials can be around $80 for two sharing.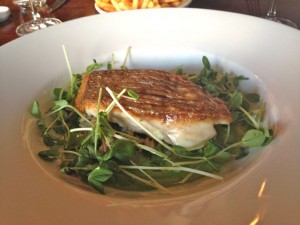 For mains we went with Portland snapper, artichokes barigoule, lemon pearled barley, parlsey crème – a very pretty and delicate dish with beautiful fish and earthy artichokes, the parsley crème was addictive.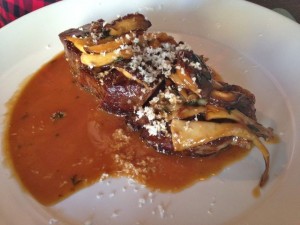 The 300g Grass fed Tasmanian 'Pure Black' sirloin with sautéed mushrooms, madeira jus and horseradish was nice, especially with a side of fries but it didn't rock hubbies world.
Sadly we had to run before we could try dessert but it was overall a nice start to the evening.
**********************************************************************************
Last published 20th May 2011
It was a cold wet night in Melbourne but it was worth the tram journey across town to find the newly opened doors to Union Dining. The first thing to impress me was the fit out, the warm wood, green tones and roaring fire were all very welcoming.
The staff were lovely and explained the menu expertly and then the feasting commenced! Designed to share, the menu offered almost too many wonderful sounding dishes to choose between but we struggled on over a lovely bottle of wine.
We started on Liverwurst with golden raisin jam and baguette toast and bresaola with a delicious eggplant relish. There was an olive stone that unfortunately snuck into the eggplant relish but the waitress quickly apologised, notified the kitchen and there were no teeth lost so no harm. Next came a couple of oysters which were gorgeous but not shucked?? Why leave it to me to massacre the lovely oyster?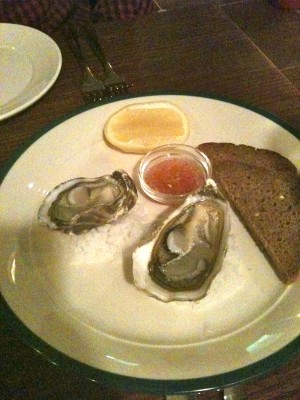 The porchetta torinato with rocket was a tasty dish of thinly sliced pork with a tuna mayonnaise and was a delight.
The smoked ham hock and fregola salad with its perfectly boiled egg on top and cornichons was fabulous but nothing could beat the abbacchio of goat, braised peppers and Manzanilla olives which was cooked perfectly and fell off the bone straight into our mouths!
We were so happy we didn't want to leave so we carried on with the Italian trifle with zabaglione with glasses of the Clyde River Late Harvest Riesling which were both very, very enjoyable.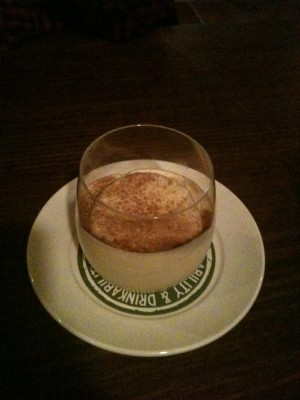 Our waitress offered some of the best service we have ever had in Melbourne, the perfect level of attention, full water glasses, wine topped up, excellent knowledge of the menu and a good tip was left as thanks!