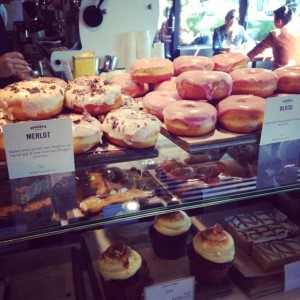 You know you are in the right place when the first thing you see is a plethora of donuts, but not ordinary donuts, no these are with fresh blood orange glaze or mulled wine spice with merlot and belgian choc…. step away from the donuts and take your table for lunch!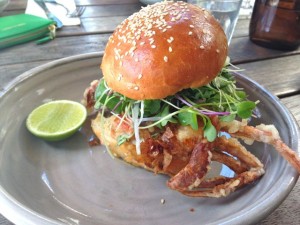 How embarrassing that I go for exactly the same as last time I came…. you can't deny a lady the soft shell crab brioche roll with lime mayo and fennel and dill salad, I can tell you it tastes even better than it looks. It's not pretty to eat but we have all gone for the same to avoid food envy and it was a good idea!
The service is great, they sun is shining and we have a massive crab roll! What more could you want?
Cheers TP and see you and those crab rolls again very soon.
*******************************************************************************
Last Published 21st April 2014
Always a great idea for a coffee or lunch catch up, Top Paddock is nicely busy but staff still have time to smile and get you a table and menus. It's a glorious day and we are lucky enough to still be able to sit outside in April.
The menu is a mouth watering mix of gin and lime cured ocean trout, house smoked kaiserfleish, pan fried snapper and the immense fresh Queensland soft shell mud crab roll with fennel and dill salad with lime mayo in. Brioche bun. It's not a cheap lunch but it is well worth it.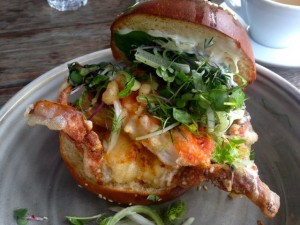 The crab is a big boy, lightly battered and served with that perfect mix of flavours with the lime and fennel, all held together in a perfect bun. I'm not sure it was pretty to watch me eat this but it was a fabulous time for me!
*****************************************************
Previously published 3rd March 2013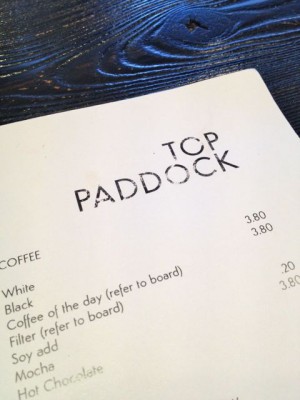 Top Paddock is a top place! It is surprisingly big and has a very cool vibe whilst being totally friendly and welcoming. To quote "It is where all the cool kids are hanging out" on a lunch time and who can blame them at that end of town! Until Baby Pizza things were a bit…. uncool!! Now Top Paddock has joined several fab places to spend a little time!
The menu is screaming fresh and fabulous with mouthwatering breakfasts such as Barham avocado with lime, sea salt and Movida Sourdough or Pulled Pork on rye with prunes, leave and goats curd…. hold that thought!!
Lunch is soft shell crab roll with fennel or steak sandwich with charred onglet, shallots, sultanas, beetroot, veal reduction and leaves…… to name but a few but you get the idea? Old favourites taken to the next level!!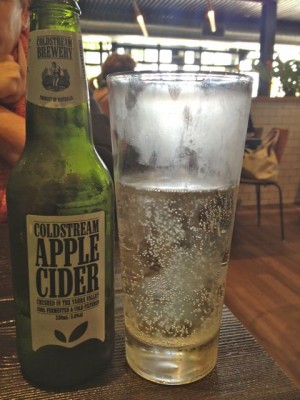 It's a good cold cider kinda day or an organic cola – sunshine and happy punters are abound in Top Paddock, I love the styling, the blackened wooden tables, industrial lifting and I so want to come back to gather around one of the bigger communal tables for an important 'meeting'!!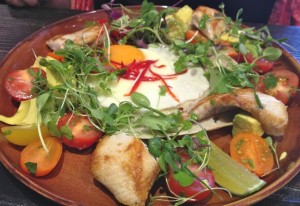 So food! Kingfish with chilli fried egg, avocado, salsa, lime and blue corn tortilla….. amazing!! See that big blistering yolk ready to pop? See all that lovely chilli? see that beautiful kingfish! It is a spectacular dish! Generous, perfectly cooked and perfectly divine!!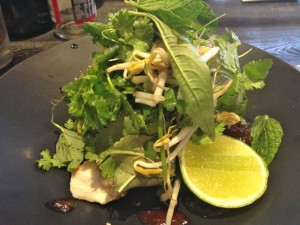 Todays special – Blue Eye Trevalla, chilli jam and raw Asian salad…… wow! Underneath that incredibly aromatic, fresh herb salad is a couple of big pieces of perfectly cooked moist fish and a wonderful sticky chilli jam! Jealous? It was sooooo good!! I loved the salad with those pops of coriander and mint and the jam was wonderful!
So pretty much happy bellies all round!! Shame we had to go back to work!!