It's a biggie! Barely fits in the recipe book holder and there are sooooo many great recipes I want to try. Donna Hay's New Classics is just as it sounds, the latest and greatest from across cuisines, the fusion of amazing flavours for our everyday cooking.
I could not stop cooking from this book, 17 recipes and nearly every one I loved and did a pretty good job with! Probably the best meal I have ever cook is recipes 14 – 17, how good was my sunday dinner?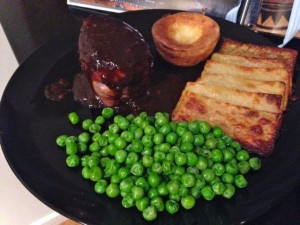 You have to try this!!
Recipe 17 – Prosciutto Wrapped Eye Fillet

THE BEST STEAK I HAVE EVER MADE!! Helps that we had a gorgeous piece of meat from South Melbourne market and a jar of bacon jam instead of caramalised onion. Perfectly cooked and so delicious.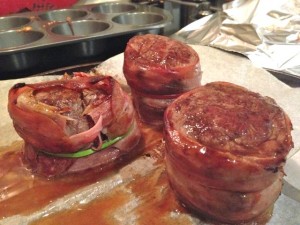 Recipe 16 – Horseradish Yorkshire Puddings

Genius! Love Yorkshire puds and this just makes them even better – especially with steak and ale jus!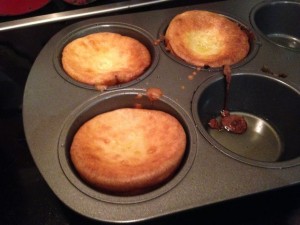 Recipe 15 – Crispy Gruyere & Potatoes Dominoes

Soooo good! Take a little time and cover thinly sliced potatoes in melted butter and in this case parmesan – no gruyere in the fridge. And taaarrrr darrrrr Best potatoes ever!! Except for the polenta roasted potatoes below!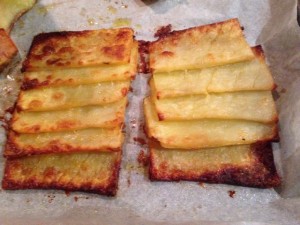 Recipe 14 – Ale Jus

Sensational! The best jus I have ever made!! Simple, cook it down and then just slather on a steak – see below!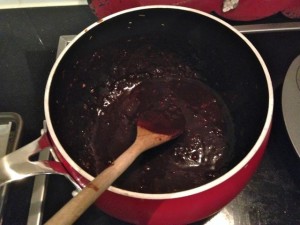 Recipe 13 – Polenta Crusted Potatoes

OMG, all the way – my new way to roast up potatoes! Crunchy, crunchy loveliness!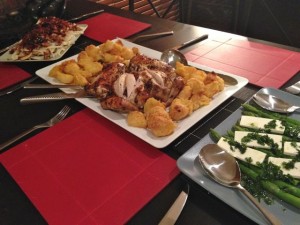 Recipe 13 – Asparagus and Fennel Salad

So good! The dressing is super tasty and takes asparagus to another level, YUM!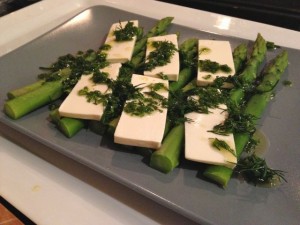 Recipe 12 – Fennel and Apple Salad

LOVE fennel and now season is in full swing they are huge! That means happy guinea pigs and fennel salads! This one with apple, prosciutto and pecan is heaven!!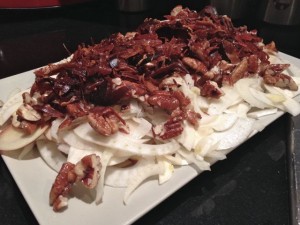 Probably sliced too early so we were starting to go brown a little but such good flavour, especially that ultra crispy prosciutto hmmmmmm
Recipe 11 – Butterflied Spice Roasted Chicken

My first ever attempt to butterflying a chicken (is that how you spell it?!) Sharp scissors, gloves, one chicken up the right way and No Fear!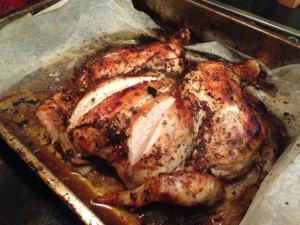 So delish and cooks in 45 mins!
Recipe 10 – Zucchini Slice

Actually corn slice! Distinct lack of zucchini in the shops! So we improvised and made a winning lunch! Lasted most of the week with a great salad and we were super happy!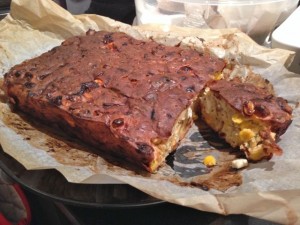 Recipe 9 – Slow Cooked Lamb Shoulder Madras

Such a disappointment! Cooked all afternoon and I obviously got my timings messed up as it was tough and over cooked not succulent and falling on the bone! So sad!!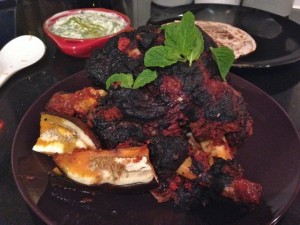 Recipe 8 – Sticky Honey and Lime Chicken

OMG so good! I loved this one for a quick meal to rustle up after work, super quick and so tasty.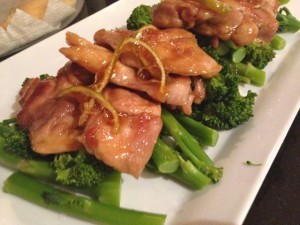 Recipe 7 – Beef Rendang

WHAT went wrong!! Browned off some chuck and chucked it in the slow cooker, added most of the ingredients, I'll admit I wasn't religiously following the recipe…… lesson learnt! AWFUL!! There was just no depth to the dish, just watery chilli! I am not blaming Donna in anyway, I just didn't respect the recipe!! Lesson Learnt!
NO PICTURES!!
Recipe 6 – Spiced Steak with Homemade Tomato Chutney

Quick gathering of herbs and spices and dust your lovely fresh steak and onto the griddle to medium rare. Tomato chutney quick and a perfect friend – smiles all around!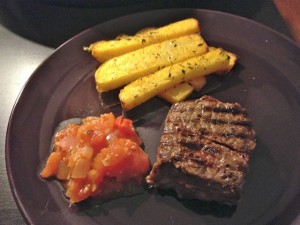 Recipe 5 – Polenta Chips

Where have you been all my life? Who knew you could roast up polenta chips? Again the rest of the 'cheat' bought slab of polenta, chipped up and on the oven with herbs and tarrrr darrrr crunchy, chewy and lovely!
Recipe 4 – Fish Cakes

Tweaked with trout and served for breakie with poached eggs and that pesto! Sensational.
Recipe 3 – Pesto

Served originally with the lamb shanks this deserved a mention on its own as we have used it on everything since! Super fresh and beautiful on eggs, pasta, mushroom soup, mushrooms …… Can't stop!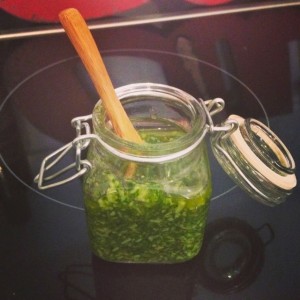 Recipe 2 – Mushrooms with Polenta

Cheated with pre bought polenta slab, so much easier. Last nights home made pesto went perfectly with the mushrooms and ricotta – quote hubby "I would order that again!!'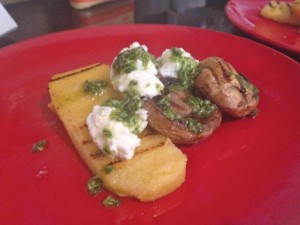 Recipe 1 – Lamb Shanks Ragu

Lamb shanks cooked for hours with white wine and herbs, falling off the bone and broken into the braising sauce and then perfected with mozzarella and homemade pasta. Simply amazing!