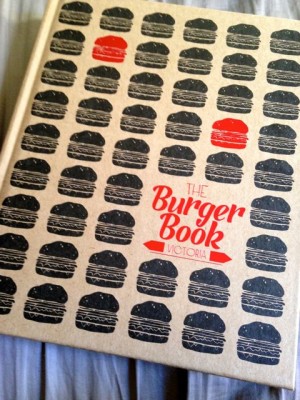 Any excuse to go on a burger rampage across Melbourne!! I love a good burger – who doesn't? And we are pretty spoilt in Melbourne, so much so you can now buy The Burger Book and take the burger challenge – How many places can you visit? The book is a beautiful combination of burger stories, recipes for the perfect burger elements and a tour of the best burger joints across the suburbs.
So who did we visit?
Third Wave Cafe – Port Melbourne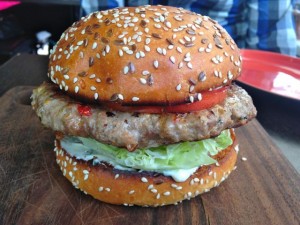 9/10
Great burger, packed full of flavour and perfect bun!
See full blog post here
The Railway Hotel – South Melbourne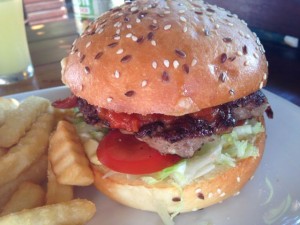 8/10
Damn good burger, nice seeded bun, good, succulent patty and fresh salad. Tomato relish was a definite winner!
See full blog post here
7/10
Cheeseburger, Pickle, Dijon, Fries – $17 Great meaty patty with heaps of flavour, zingy mustard and shoestring fries that you cannot stop eating!
See full blog post here
7/10
It's a big boy! Good bun, great burger, runny egg, fresh lettuce and cheese. Great fries and happy days!
See full blog post here

The National Hotel – Richmond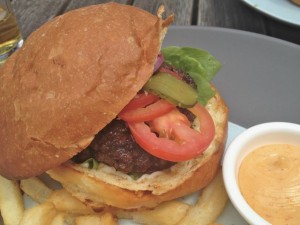 7/10
Nice roll, succulent patty, good salad, quite a heavy slab of beetroot relish and great fries!!
See full blog post here
9/10
The Zombie Burger – Go Classic! Fire-grilled grass-fed beef, beer caramelized onions, melted American cheese, dill pickle, vine-ripened tomatoes, oakleaf lettuce, topped with American mustard, our special ZB ketchup, signature ZB mayo on a toasted brioche bun. FRICKIN amazing, I love a good burger and this was one of the best!
See full blog post here
9/10
The hamburger with lettuce, relish, mayo and dill pickle is perfection! Each element is carefully considered from the bun to the rosey charred beef chuck patty. Might be my top burger ever!!
See full blog post here
9/10
The burgers are fun and fabulous! Choose from the classic or go crazy with Sexy, Filthy or Easy!!
Sexy covers double beef, double cheese with jalapeno mayo! The Easy is with bacon, egg and tomato and the Filthy…. mustard fried beef, cheddar chilli paste and jalapeno mayo! It is truly filthy!!
7/10
This is a damn fine burger! Packed full of herbs and flavour it was a winner! The onion ring was impressive but not my thing, chips were damn fine!
See full blog post here
8/10
Ladies and gentlemen I give you – DENISE(the hot one) Huxtaburger with jalapeno & sriracha mayo – there are not words to explain how mind blowingly amazing this burger is! The beef speaks for itself, rich, succulent, meaty!! And then to chuck a bit of jalapeno in there.
See full blog post here
Queen Street Rescue – Melbourne CBD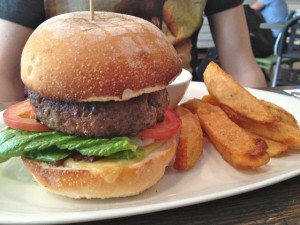 7/10
This is a BIG boy burger, it is a hefty piece of meat but great quality and lovely and succulent and well held together! With simple accompaniments the great burger speaks for itself and great fries too!!
See full blog post here
Andrews Hamburgers – Albert Park


8/10
The burger was great! Roll – good, firm, held well!! Burger – good size, good char and tasty!
Accompaniments – browned onions been a while and really nice, excellent cheese, ketchup and a touch of lettuce!
See full blog post here
Albert Park Hotel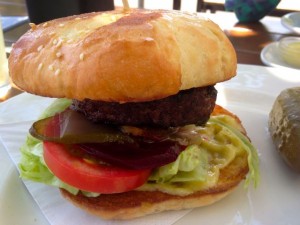 7/10
The burger was good! Excellent sesame roll. Burger – good size, lots of spice and tasty!
Accompaniments – beetroot, mustard, aioli – yum!
See full blog post here
Possible contenders for The Burger Book Part II;
The Royale Brothers – Brighton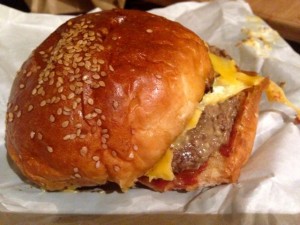 Seriously good burgers – read more here
Other favourites;
Fat Bob's Bar & Grill – Moorrabbin

The Fish Market – Richmond

Rockwell and Sons – Collingwood

and maybe taking the burger outside the box maybe The Sushi Burger
Congrats to Mark, our lucky winner of The Burger Book promo in May 2014.