It's been a while since we last visited and you'll see below we had a brilliant time 'balling' it up but this time around it just wasn't as much fun.
We managed to get a seat on a relatively busy Saturday afternoon, our waitress was lovely and helped us work through the many choices available including the tempting special Game of Thrones Ball!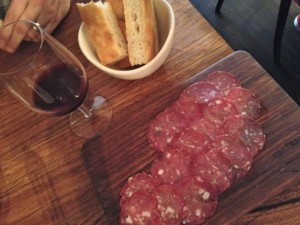 Beautiful fennel salami and a glass of Montepulciano – Perfection! Gorgeous, wafer thin salami studded with fragrant fennel seeds, a perfect partner with our first glass of wine….. and then the salami was gone and the tables around us came, ate and went and after 40 mins and another glass of wine we finally received our Game of Thrones balls.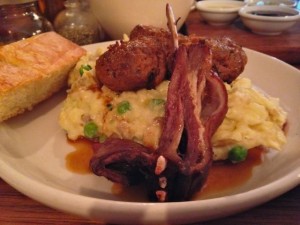 Wild boar balls on mash with a braised lamb rib. The mash was disappointingly cold, stone cold. We were too hungry to wait for another one, at least the balls were hot. The lamb rib was nothing special and it was all a bit of let down after waiting so long.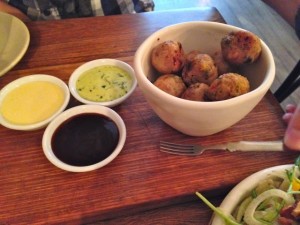 Mini balls are great idea with three sauces – BBQ, Wasabi Aioli and 'Green Sauce' it was nice enough, probably just a bit over it all by the time it came. The orange and fennel salad with walnuts was lovely.
Unfortunate our dishes were forgotten but our waitress was great and couldn't apologise enough and took them off the bill which is all fine. Just one of those days.
**********************************************************
Last visit 2nd September 2012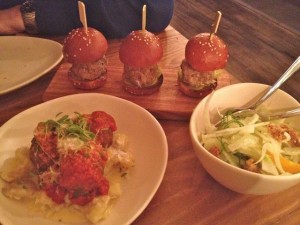 After a hard Saturday hitting the shops and desperately in need of a glass of wine and something to eat I am so glad we planned to head to the new spot in Flinders Lane – Meatball & Wine Bar!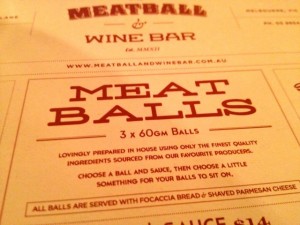 You had me at Meatballs!!!
Even before we saw the full menu we were hooked, hubby loves meatball subs and I like a sophisticated eatery……… Who thought we could get both in one place!!
So menu is far too tempting! Charcuterie, cheese, jerky, balls, balls, mini-balls, hero-sub balls, ball sliders and Whoopie Macs!
My only regret was not having more people with us so we could order EVERYTHING!! But no we had to restrain ourselves a touch!
First up – Jerky – gotta be done! Four options Original, Ninja, Samboy and San Diego. We went Ninja – it was great! Little snacky bits of dehydrated beef – tick, tick!!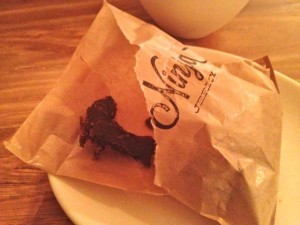 The cured meats sound wonderful with Fennel Salami, Truffle Salami, Capocollo and Proscuitto Di San Danielle…… We went Proscuitto Di San Danielle off our lovely waitress' recommendation and she was not wrong! So very, very gorgeous! Served simply with a little drizzle of olive oil and some rather lovely focaccia – perfection!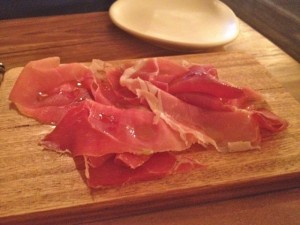 But there's more!!
Wine list – liquor licence had just been granted so our choices were limited but I was more than happy with a 500ml carafe of 'Super White' blend from Mornington!!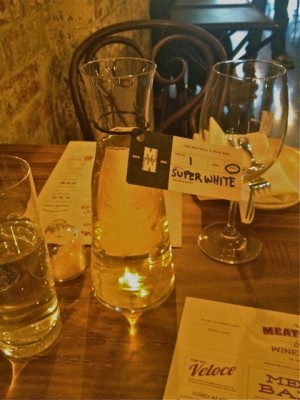 So – down to business! Balls! I love it, choose your ball, choose your sauce and choose something for your balls to go on!!
So that's;
Balls;
Pork – fennel, sage and orange
Beef – Mature fed Angus beef
Chicken – pistachio, muscatels, parmesan
Fish – fish, dill and lemon
Veg – cauli, chickpea and coriander
Sauce;
Red – Italian Tomato
White – Creamy
Green – Pesto
And then something to put them on;
Italian Beans
Creamy Polenta
Super MB Potato Smash
Homemade Passta
Something Green!!
Again want EVERYTHING!! But went for traditional Beef with Red and couldn't go past Super MB Potato Smash!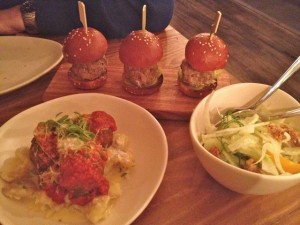 Soooooooooooooooo amazing!! Balls had so much flavour and the sauce was sooo deep and just those perfect Italian flavours but the smash….. Take me home!! So amazing!! You know when you are getting full and sharing plates so you have to start strategically picking the dishes you grab a bit more of? This was it, oh no you can have all of that just leave me with my balls and mash!!
But we aren't done yet! Sharing means we can have more! The Fennel, orange and honey walnuts salad was a perfect accompaniment and the guys here have made sure you get more options to try those balls so you can also pick mini meatballs, ball sliders and heroes!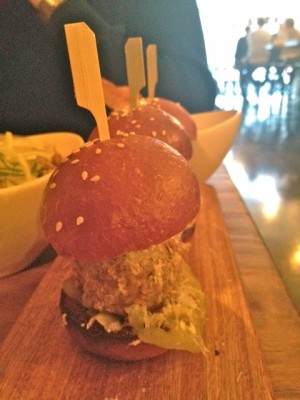 Pork Ball sliders with pesto salsa verde are really, really good! This place is just wonderful, good atmos and great staff – I want to be there right now with a glass of wine and a few sliders!!
AND then you have to save room for the Whoopie Mac! Macaron with homemade ice cream BUT as always there is a choice to custom fit!!
Mac – Coffee, Pistachio, Berry and Choc
Ice cream – Coffee, Ruby Orange, Vanilla and Choc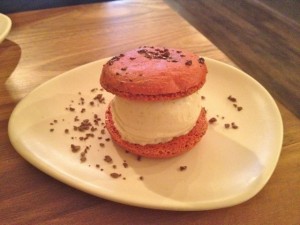 Again with the traditional flavours we go Choc Mac with Vanilla ice cream – so bloody good!!!
And then they can make an amazing coffee too… but did you fashion some bulls balls in my coffee sir?!?! You flirt… or have I been here too long??!!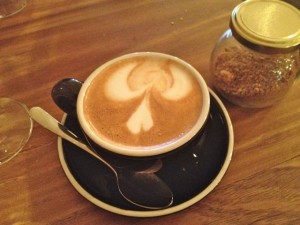 Joy to the world it's BALLS time!! What more can I say – Why aren't you there already!???!?!