What better way to spend an afternoon with friends over a spot of lunch a touch of wine! With Mornington just an hour down the road it is crazy not to cruise down the new Peninsula link and find yourself very far from the hustle and bustle of Melbourne. Top Tip – Don't cruise too far! Better to pay attention to the signs than end up late for lunch because you forgot to come off and ended up in Balnarring!!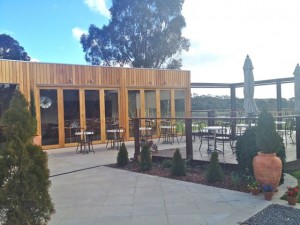 Slightly late, we did make it to the lovely Stump Gully, the Zaanvoort family winery which has been an old favourite for many years and is looking super swish since their recent make over! There has always been a superb range of wines here from the crazy priced Peninsula range – just $18 for some seriously quaffable wines! To their premium Magic Black label Reserve Pinot – still a bargain at $48. Their bubbles are also a big hit in our home – $25 Sparkling NV with a crisp and light taste that brings on the sunshine!
So a quick sampler of some whites before we head in for lunch, you cannot fault them, just damn good wines that you can sit back and enjoy. The menu is super relaxed, no crisp white table cloths and $40 mains! This is food to be enjoyed, especially with wine!! Think gnocchi with rich Napoli sauce, Eggplant involtini, Yellowfin Tuna Sashimi, Risotto with duckling and good old steak sanger! The menu changes seasonally so check out the latest at click here.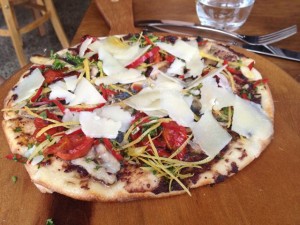 There are always a couple of great pizzas on the go, imagine a perfectly thin crisp base with just the right amount of topping, my friends sardine pizza smells wonderful when it arrives.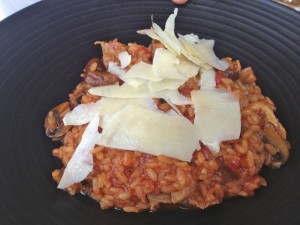 The Risotto of roast duckling, mushrooms and port with shaved grana parmesan smells divine and is a good man sized portion and the open steak sandwich with pesto and fries gets plenty of the right noises and several chips stolen!!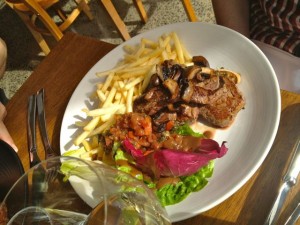 My prawn and basil mousse ravioli with champagne cream is to DIE for! You know that dish that you are so very sad when you have scraped the last remaining morsel and there is no more left! Stunning, delicate, fresh and absolutely no sharing!!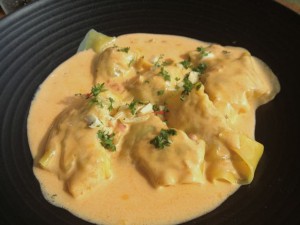 It makes a refreshing change to have dessert, we went light on the mains so we share the French style lemon and lime tart with a brulee sugar crust, double cream, ice cream and confit spiced orange.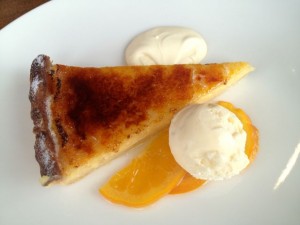 The Chocolate and hazelnut praline tart with a spiced orange icecream. HOLY Tart!! These are so incredibly delicious and I am not the worlds biggest dessert fan! The pastry is perfectly crumbly, the lemon tart perfectly … tart! The chocolate deep, rich and decadent and the whole spiced orange confit and creams has us all smiling with greedy delight!!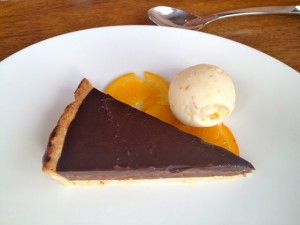 The staff are quiet, efficient and attentive whilst nicely relaxed, must be all that lovely wine they are surrounded by!
After lunch we go on a wonderful journey around all the Stumpy Gully wines, Jason looks after us very well and we even get a sneak peek at a new wine just blended.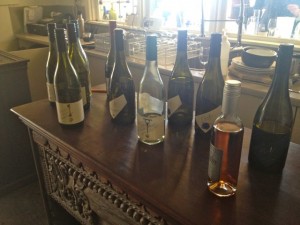 With our next destination recommended we hit the road and head off to see Katherine Quealy! There is nothing fancy, shmancy about Quealy Wines but it's my kinda place! A doggie runs to greet your car, there are no couch parties or reserved tastings – infact there is barely a cellar door! But there is a wonderful lady called Katherine who will take you on a tour around their little winery, will share stories and history of wines and if you are really lucky will show you the resident koala!! The inner Brit nearly exploded with excitement at that offer!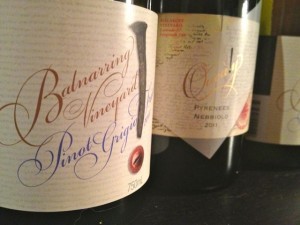 The wines are pretty damn good too!