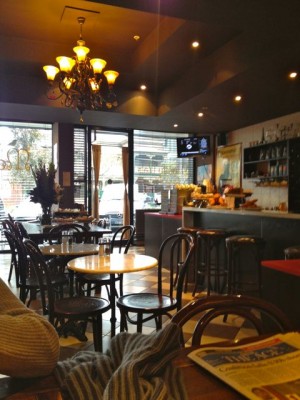 On a cold, dreary morning Moulin Noir is a welcome little snug with great coffee, welcome smiles and amazing food! I am not a huge fan of breakfast and I often resent paying $15 for avocado on toast but Moulin Noir has converted me! For the first time in ages I am torn at what to order from the menu!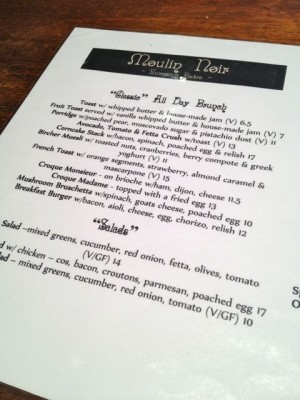 Would you like Corncake stack with bacon, spinach, poached egg & tomato relish or Croque Monsieur on brioche ith ham, dijon and cheese or Mushroom Bruschetta with spinach, goats cheese and a poached egg or the Breakfast Burger with bacon, aioli, cheese, egg, chorizo and relish……… decisions decisions!!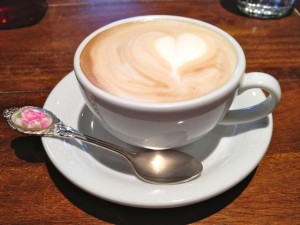 Firstly coffee, so pretty! And with beans from St Ali it is the perfect drop, the sort you can't help but ask for a second!!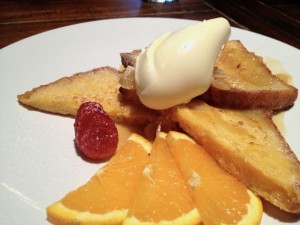 Behold, when you are feeling a bit under the weather and poorly there is nothing like a sweet / savoury treat to help the healing process!! French Toast with orange segments, strawberry, almond caramel & mascarpone….. I very rarely go for the sweet option but this is outragiously good!!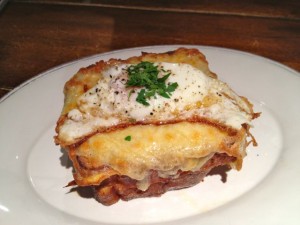 But just when you think I may have ordered something so decadent and delicious it might be too much to finish hubby gets all the goodness and greatness of the Croque Monsieur with a fried egg on top – Croque Madame!!! Layers of amazing ham, cheese and brioche!! So good!!
Moulin Noir are serving breakie and lunch all week round and on Fridays and Saturdays you can enjoy an evening the guys here too! I think I might just have to very soon!!