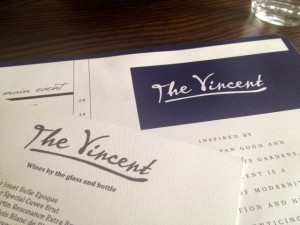 It's been a dingy good local and a high end wine bar over the last few years and now The Vincent has arrived on Victoria Avenue and it feels right! Taking inspiration from Vincent Van Gogh and hosting some impressive murals in the overhaul to clear out Hotel Nest, it already feels settled and welcoming….. apart from the background music! (more later!)
Offering a varied European inspired menu there is plenty to pick from for all tastes and it was a perfect spot to curl up for a lazy celebratory lunch on a frday afternoon! Choose from drool worthy dishes oysters, arancini and lamb ribs or bresoala or terrine…. Choices choices!
Ragu, calamari and mussels play with rabbit, risotto and beef! This is a substantial menu that all fits perfectly together to offer almost too many choices for those that struggle to make a decision!!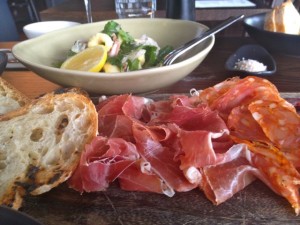 We popped open the Prosecco and though we were the only other talbe of two in at that time (someone has to work!!) it was really nice… except for the terrible background music!! We wound up the waiter a few times and the musc choice was under the control of the managers and had carefully selected playlists depending on the time of the week………. Unfortunately I had take nthe music blogger for lunch so we again discussed the importance of music in a venue and how it can easily impact on the experience and can so easily be an owners personal choice vs what works in the space, style, venue and timing. One of my most favourite dining experiences was STK Vegas were Monday nights was not only Magnum Mondays (free upgrades all round!) but in the middle of it all was a banging DJ. An incredibly clever mix of music that didn't overrun the dining room but instead created the happiest atmosphere I have ever been in! Waiters dancing to tables and singing along, patros having a little jiggle as they tucked into their steaks! Anyways not that I expect that of The Vincent but it is an example of how you can add to the buzz and excitement of a room or you can depress them or just confuse them!!! We did ask the waiter if we were 'on hold' at one point!!!
Elevator music aside the service was lovely I cannot remember the name of the great guy who looked after us all afternoon but he was that perfect mix of attentive, knowledgable and friendly! Tick tick!!
So – the food! Fantastic! We had the calamari and cured meats to share to start with, semolina dusted calamari fritto with charred onion petals, green leaf salad and agrodolce to dip – YUM!!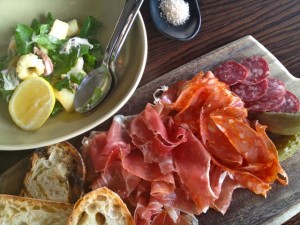 Meats – Good! I'll be honest I cannot remember exactly what they were and I am not an expert but they were all gorgeous and served with lovely toasted ciabatta and pickles! Perfect!
Mains… so hard to choose! But my Crab Spaghettini was the most amazing ever! Soooooo much depth of flavour and yet so simple ooohhhhhh I could eat this right now!!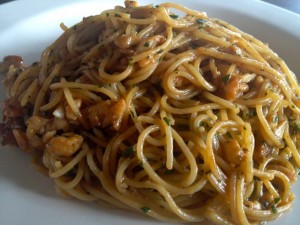 Hubbies lamb rump was divine with a charred lettuce salad!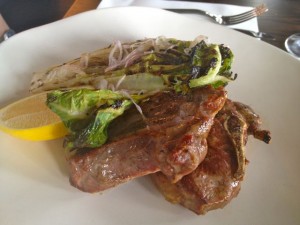 A little more Prosecco and we should have room for a little dessert! Attention please! The Slow Baked choc mousse with prunes and sherry cream…. Seriously good!!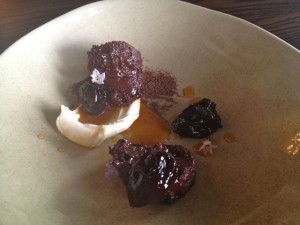 I don't think we saw The Vincent at it's absolute best on a quiet Friday afternoon but it was already ticking all my boxes (apart from the music 🙂 ) Can't wait to head back for a Sunday lunch or dinner one night.