This one has been waiting for a blog for sometime! BUT as the last days of sunshine leave Melbourne enjoy these light and wonderful Moscato Cupcakes from the Fabulous Ladies Wine Society. Perfect with our favourite Brown Brothers Moscato – the new mini bottles perfect for this recipe too!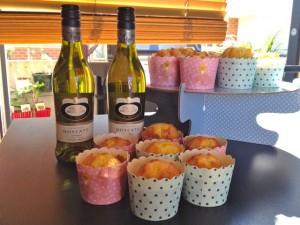 Moscato Cupcakes
Ingredients:
2 1/2 cups all purpose flour
1 tsp baking soda
3/4 tsp salt
1 1/4 cups sugar
1 cup oil
1/3 cup Moscato
3/4 cup buttermilk
2 large eggs
1 tsp vanilla extract
1 tsp white vinegar
Method: Pre-heat oven to 180 degrees. Prepare 2 cupcake tins with liners. Combine flour, soda, salt & sugar. Separately, combine oil, Moscato, buttermilk, eggs, vanilla and vinegar and mix until blended. Mix wet ingredients into dry and mix until just combined. Scoop into prepared cupcake holes, filling each 3/4 full. Bake for 15-20 minutes or until done. Should make 12-18 cupcakes.
MOSCATO VANILLA FROSTING
120g cream cheese – room temperature?120g butter – room temperature?2 tbsp Moscato?1/2 tsp vanilla extract?2 cups icing sugar
Method: Combine cream cheese and butter, mixing well. Add Moscato and vanilla, mix together. Add icing sugar and whip until smooth and light. Ice your cooled Moscato cupcakes, and enjoy!
I didn't make it to the frosting but these were the most perfect moist, sweet loveliest cupcakes I have ever make!