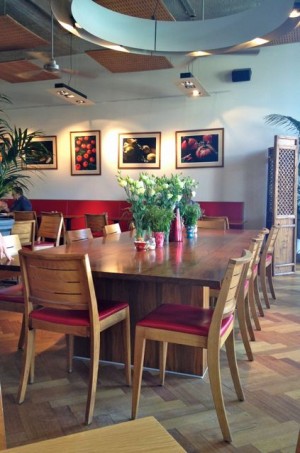 Catering for the surrounding offices and workplaces Industri is a lucky oasis to come and escape your desk and have a good coffee and enjoy something from the lunch board during the working week.
With Vietnamese Chicken Salad, Steak Sandwich, Risotto and Flathead there is a great mix of choices to suit everyone and there is a familiarity around the place as everyone else walks in and is greeted like an old friend! I get the feeling it is easy to become a regular here!
There are huge fresh pizzas and cakes on the counters and sandwiches to cater for a smaller appetite… or not seeing the schnitzel sandwich that comes out!!
But first the coffee! Gorgeous red cup and saucer housing a fantastic brew! You know you are in the right spot when you have to fight your urge for that second cup!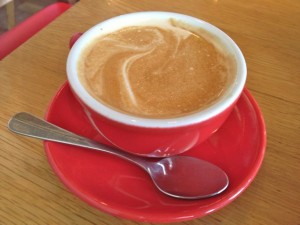 We ordered three of the lunch board choices including the Vietnamese Chicken salad with coleslaw. I was worried that the slaw would be to creamy or too much mayo for the healthy regime but it was a generous serve of super fresh, zingy, herbacious, chilli spiked glorious chicken salad!!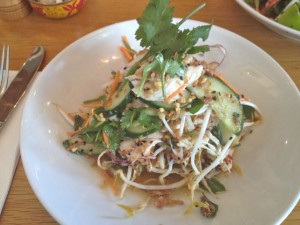 It has all those flavours that take you back to Vietnam with limes, chilli, ginger, coriander and a hint or garlic too!! Great amount of chicken and all poached beautifully so it was succulent and juicy!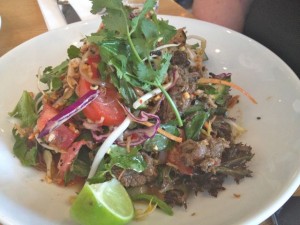 The Thai Beef Salad whisked us away to Thailand with a whole new selection of flavours with perfectly cooked, just rare, succulent and lovely beef. The sweet, sour, salty and bitter flavours in the perfect ratio with soy, ginger, garlic and lovely fresh bean sprouts and salad leaves with crunchy cabbage – DIVINE!!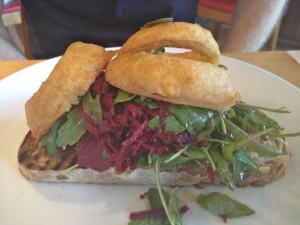 And for the boys? An open steak sandwich with onion rings and chutney…. WOW! The onion rings are huge and they look fabulously crispy and not greasy. The steak is cooked rare and is great quality and there is a generous top of beetroot chutney and rocket YUM!
It's a great spot with hearty dishes and a damn fine coffee! Lucky local workers!!
**********************************************************************
Previously visited 1st May 2012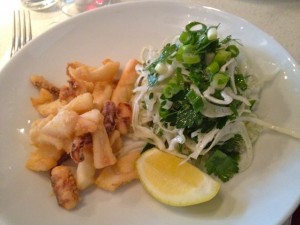 This little area is getting to be pretty hot for foodies! With some impressive new and old additions we are thrilled to grab a bite to eat at Industri Cafe.
The atmosphere is relaxed, there is an agency suit vibe to the customers and there are friendly greetings to all those grabbing great smelling coffee and a bite to eat.
The menu is a bit special! Nothing is average sounding, there are hearty soups, salads, bruschetta, pastas and pies – they sound amazing!
My friends ocean trout bruschetta with soft poached egg is a stunning dish and perfect flavours all working together to make those yummy noises!
My calamari with cabbage and fennel salad is AMAZING!!
Seriously good food! Gently cooked calamari served deliciously tender and crisp with a wonderful fresh salad with crispy aniseedy fennel, crunchy cabbage and fennel tops all dressed ever so lightly and served with love!
I cannot wait to go back to see more of Industri!