Back again and this time it's dinner time!
Crabapple Kitchen are making major waves across Melbourne with Greg Feck's honest, heartfelt cooking and his delectable Crabapple Sliders!!
I love that we can now enjoy Breakfast, lunch and dinner here now!
There is a great group of us and everyone is up for some sharing (apart from the Crabapple Slider – get your own!!) The menu carries over from lunch with the starters, shares and substantial dishes and we go with the chefs selection charcuterie no question!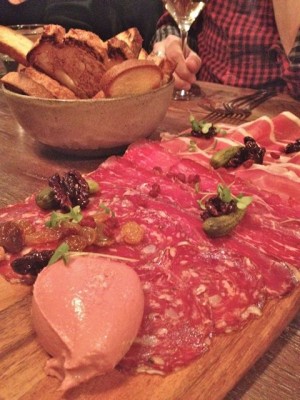 The smoothest most beautiful chicken liver parfait with sherry soaked raisins, brioche, pickled walnuts, salami, ham and more YUM!!
Becoming bit of a signature dish (well my fave regardless!!) the Crabapple Slider is just to die for!!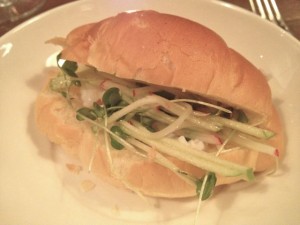 The sweetest crab with tart apple and in a warmed baby soft brioche bun……. cannot beat it!!
For mains I can't go past the 'Wurrook Superfine Merino '12 hour' with semolina & sage gnocchi, almonds and Taleggio cheese' ………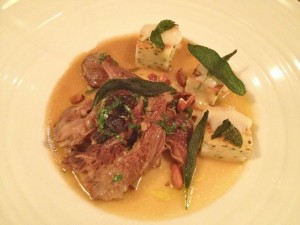 Enough Said? Such a perfect dish! Slow cooked happy lamb with sage and cheese and ……. hmmmmm!!
Hubbies 'Half a kilo of Sea Bounty mussels with tomato, Serrano ham, saffron & farro' were thoroughly enjoyed, shells licked clean!!
And then? We can all share a dessert pr two right?!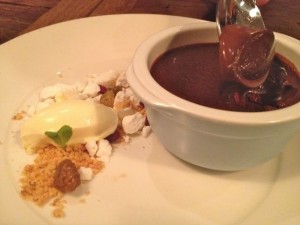 Chocolate pot, beurre noisette crumb, meringue, double cream and sherry soaked raisins – enough to make a girl go weak at the knees!
But then……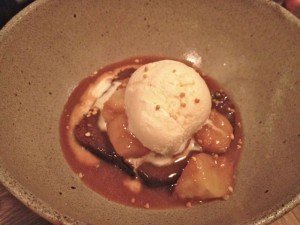 Warm gingerbread with spiced rum bananas, caramel sauce and vanilla ice-cream! OMG Heavenly!!
Such a great place, great staff, great atmosphere, great menu, great produce, perfect cooking and a really wonderful chef!
See you soon CK!
*********************************************************
Published 20th July 2012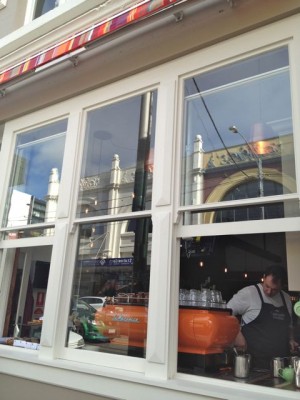 There is a little piece of heaven recently appeared on Glenferrie Road and it is serving some of the most amazing food I have had in a long time! With a wide choice of larger dishes and smaller dishes to share as well as breakie and an array of sweet treats this is the place to be!
They have worked wonders with a relatively small narrow space to create a comfortable, pretty dining space with the focus on the front kitchen where it is all happening! The stunning La Canche stove adds to the provincial feel and it is full of amazing food for everyone today!
So lets start with the "most amazing dish I have ever had in my life" Quote @sevillebogan – and she is not wrong!!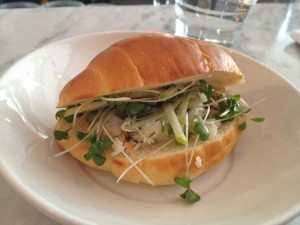 The Crabapple Slider………… WOW! Stunning fresh spanner crab with radish, apple, mayo on the lightest warmed baby brioche….. there are not words but I will try! Firstly anything you put in that little soft pillowy brioche would be wonderful! But with the creaminess and freshness of the filling … well it takes about 2.5 seconds to eat it. AMAZING!!! How amazing? All that was left…..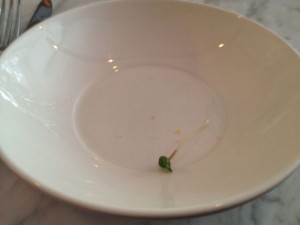 I love a good before and after shot! Infact I also just love a good shot! I totally missed taking a picture of the duck meatballs… and they were so pretty and so yummy! Spiced duck meatballs with big cous cous, pomegranite, tahini, mint and feta, so incredibly soft and moist and full of flavour. Oh well will just have to go back and get another shot!!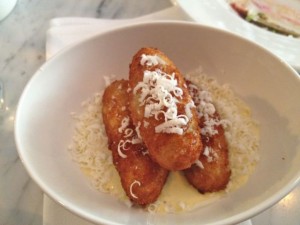 Tuna, broccoli and salted feta croquettes with tuna dust and corn puree…. soooooo good! Infact pop one in the small warmed brioche and I am there!! Sooo good and with hot chippies too!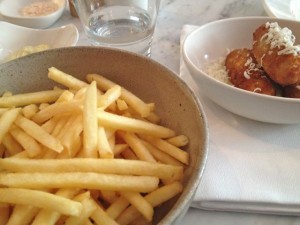 By the way if you manage to get our seats at the front you can also watch the magic at work! The guys are preparing this wonderful food right in front of you and working serenely away to produce fabulous food! Infact there was a risotto special that was made a couple of times whilst we were there that I have to go back for it looked sensational!
Winter salad of beetroot, mushrooms, goats curd, smashed peas and horseradish…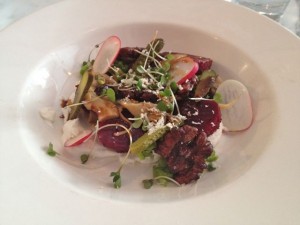 Almost too pretty to eat and almost too amazing to share!! Stunning and with little shots of walnuts too it was the perfect dish….
You know its a good spot when you are writing about the food and just wish you were back there right now to enjoy it all over again! Lunch anyone?!