The Mamak has landed, revered Sydney destination for top a top malaysian experience, where they queue around the block, now we too can queue!! Unless you go at 9.30pm on a Tuesday night!! But even if we had it would have been totally worth it!!
So very relaxed, happy staff, nice setting, simple, clean, new! It's a nice place to be! The menu is a big old mix of satay, roti, noodles, rice and more! Fortunately we are all foodies and ready to order as much as we can without embarressing ourselves!!
We start with a nice cup of tea!! 'Teh tarik – Classic Malaysian sweetened tea, 'stretched' for a frothy topping' Yum!!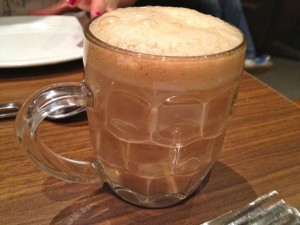 And then 'The original roti. Crispy on the outside, fluffy on the inside' And absolutely just right!! Totally delicious and soft and crispy and quite honestly a work of art!!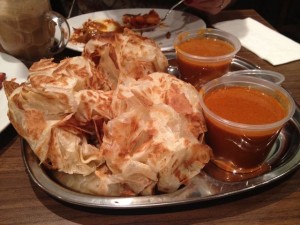 The 'Kari kambing – Spicy lamb curry slow-cooked until tender' was exceptional! Succulent, soft meat, spicy curry and happy eaters!!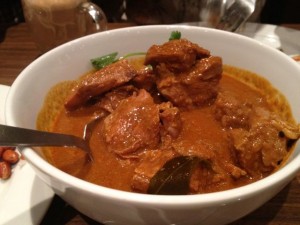 The 'Rojak – A Malaysian-style salad. Prawn and coconut fritters, fried tofu, hard-boiled eggs, freshly shredded yambean and cucumber, topped with a thick spicy peanut sauce' is really, really good! the shredded yambean and cucumber is cool and refreshing with the peanut sauce which is creamy, spicy, fragrant and not so peanut buttery!!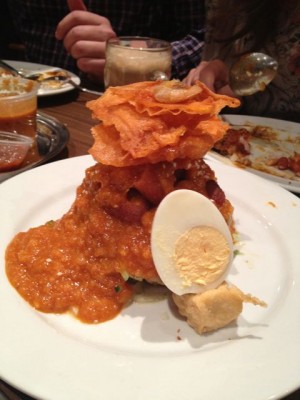 'Nasi lemak – Fragrant coconut rice accompanied by an ensemble of sambal, peanuts, crispy anchovies, cucumber and hard-boiled egg. Arguably Malaysia's national dish, just add sambal prawn!!' Amazing!! This is a winner! Lots of lovely little elements that come together to be a monster dish!!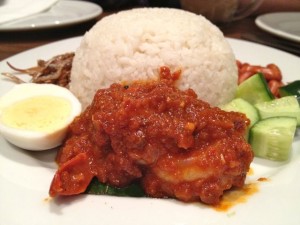 I did say we were ordering a lot of food! The surprise at the end, we forgot the satay we ordered was so good I am glad we squeezed it in!! 'Satay Chicken – Grilled over flaming charcoal for that authentic Malaysian flavour. Served with a sweet and spicy peanut sauce. Amazing, amazing, amazing!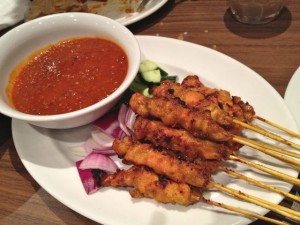 Oooops wait I forgot one more for the road!! Yummy little bundles of 'Ayam goreng – Malaysian-style fried chicken. Marinated with herbs and spices and full of flavour' Bloody brilliant!!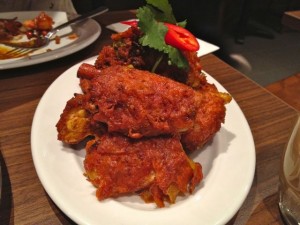 So food = Amazing, atmos = Amazong, service = amazing …. totally worth a queue!! Enjoy!!